a
Maritime Security Industry News - Canada
Shark Marine Technologies Introduces Underwater Metal Detector with Sonar & Nav System
Shark Marine Technologies Inc. announces the integration of the Ebinger 725K Underwater Metal Detector with its own Navigator diver-held imaging sonar and navigation system. This integration provides the diver with another valuable underwater tool whose collected data can now be completely geo-referenced to the location of the diver using it.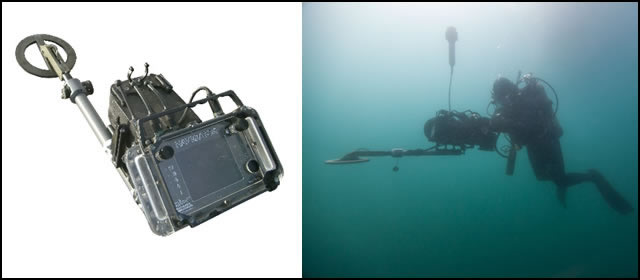 Photo courtesy of Chad Nelson

Sensory data from the metal detector is recorded to the Navigators internal solid-state hard-drive where Shark Marine's Divelog software correlates it to the position data from the systems multiple navigation sensors. The data is provided to the diver both graphically and audibly. Integration with the Navigator also allows the diver to take full advantage of the systems additional features such as the multi-beam imaging sonar which provides him with visual target detection capabilities and guidanceeven through the murkiest of waters.

The Navigator, diver-held imaging sonar and navigation system has been in use by many of the world's navies since its inception in 2005. Its modular design allows it to be easily configured for mission specific operations from search and recovery to ship hull inspections to mine-countermeasures and more. Additional options include a proton magnetometer, an HD camera, an underwater head-mounted display, a selection of long and short range sonar heads, a radiation detector, through water communications and various positioning systems dependent on the accuracy required. The Navigator may also be integrated with Shark Marine's MAKO, diver delivery system to give it autonomous operation capabilities.

Shark Marine's Divelog Control software is the program that ties all the different Navigator options including the Ebinger metal detector, together into one easy system, operated entirely through the use of only two thumb-sticks. Divelog's capabilities have matured alongside those of the Navigator to the point where it's now the control software for all of Shark Marine's underwater systems including sidescans, pole-mounted sonars, video systems, diver delivery systems and our complete line of remotely operated vehicles. One software to handle all the tools and then, when the mission is complete, to automatically compile a complete report into an easy electronically transferrable format.