Russia's Next Gen Husky-class SSN to combine multipurpose, strategic submarine characteristics
a
Naval Forces News - Russia
Russia's Next Gen Husky-class SSN to combine multipurpose, strategic submarine characteristics
The fifth-generation Husky-class nuclear-powered submarine will be maximally standardized to combine the qualities of multipurpose and strategic submarines, United Ship-Building Corporation President Alexei Rakhmanov said in an interview with Echo Moskvy radio station on Tuesday.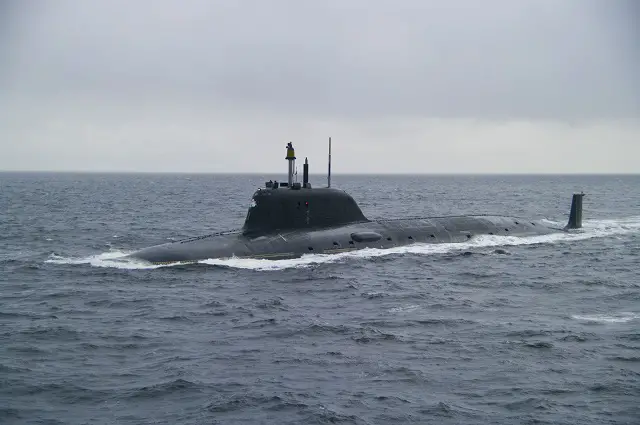 Russian Navy Project 885 Yasen-class Submarine Severodvinsk (K-560) underway. The successor will be the Husky-class fifth generation submarine.

"The design of the fifth-generation submarine is under discussion. Various preliminary technical specifications are being prepared and R&D works are being carried out,"
Rakhmanov said.
"This will be an absolutely different submarine from the viewpoint of physical fields. This submarine will be standardized to combine key elements of strategic and multipurpose submarines,"
he added.
According to the corporation's president, the fifth-generation submarine
"will feature a new weapons suite."
The United Ship-Building Corporation's task is to maximally standardize the submarine
"to offer a more favorable price to the Russian Defense Ministry,"
Rakhmanov added.
"If we complete developing the fourth-generation submarine in 2017-2018 and if we don't start the development of the fifth-generation submarine at that time, we will build it no sooner than 2030,"
he said in reply to a question about when the Husky-class submarine would be manufactured.
As the United Ship-Building Corporation said earlier, about two years will be required to work out the preliminary design of the fifth-generation Husky-class multipurpose nuclear-powered submarine. The fifth-generation multipurpose nuclear-powered submarine is being developed by the Malakhit Design Bureau in St. Petersburg in northwest Russia.
A series of fourth-generation Project 885 Yasen-class submarines armed with missiles and torpedoes is currently under construction in Russia.
© Copyright 2015 TASS. All rights reserved. This material may not be published, broadcast, rewritten or redistributed.


Link to
Project 885 Yasen-class technical datasheet