a
Naval Defense Industry News - France
Aero Surveillance introduces the ASV 100 a new maritime VTOL drone system
Aero Surveillance is pleased to announce the addition of a new VTOL remotely piloted aircraft system. The ASV 100 is a small tactical unmanned helicopter capable of carrying an integrated yet modular payload of up to 20 Kg for up to 3 Hours. With a maximum takeoff weight of 40 Kg, the aircraft is powered with a small turbine capable of accepting several type of kerosene fuel.

Aero Surveillance's ASV 100 VTOL UAV for maritime applications. While the chassis has already been studied for maritime environment, the company is now working on adapting the engine to these specific requirements. Aerosurveillance is also working on the software so that the ASV 100 will be able to land autonomously on a ship during sea state 4 - 5.
The ASV 100 standard configuration includes two aircraft with satellite communication capabilities and a Ground Control Station (GCS) that can be easily adapted into a fixed Command Control facility or mobile command centers. The GCS is common to all AS and ASV Series in order to reduce training requirements for customers that need different types of UAS.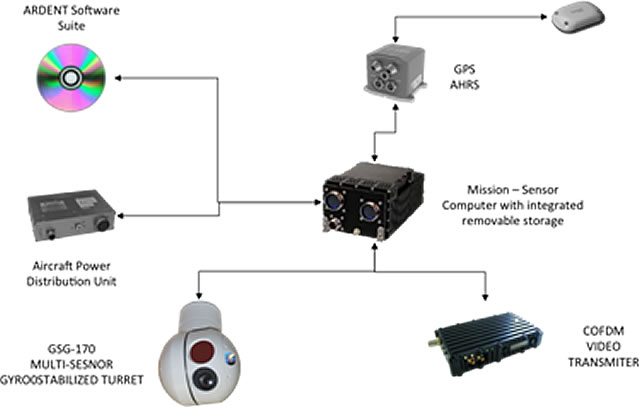 The ASV 100 standard ARDENT mission payload includes a dual sensor gyro-stabilized gimbal, a ruggedized mission computer, a precision Attitude Heading and Reference System and a line of sight data transmission unit.
The standard sensor suite will include a high performance gyro-stabilized electro-optical turret, a high performance multi-processor system with on board image and signal processing, large data storage and a combination of satellite and Line Of Sight transmission capabilities. The ARDENT system and software suite from Aero Surveillance is based on Open Standards and can be customized very easily with new or additional sensors. Radar and SIGINT options will be made available in the near future.