a
Naval Forces News - USA
C-40A Clipper Transport Aircraft delivered to U.S. Naval Reserve ahead of schedule
Tactical Airlift Program Office (PMA-207) and industry partner, Boeing delivered a C-40A Clipper to the U.S. Naval Reserve Nov. 21, one month ahead of schedule. "The C-40 has been successfully serving the fleet since 2001, and I am very proud that we were able to deliver the 13th plane ahead of schedule," said Doug Dawson, PMA-207 program manager. "In today's fiscally constrained environment, it speaks volumes to the hard work and dedication of our industry partner."

The U.S. Navy's 13th C-40A departs Boeing facility in San Antonio, Texas, Nov. 21 and heads for Fleet Logistics Support Squadron (VR) 61, Naval Air Station Whidbey Island, Washington, one month ahead of schedule. (Photo courtesy Boeing)
The C-40A Clipper, a derivative of the Boeing 737-700C commercial airliner, is equipped with a large cargo door, fully digital "glass" cockpit, upgraded GPS navigation system, and has strengthened wings and landing gear. The aircraft has a range of 3,200-4200 nautical miles depending on configuration and can carry up to 36,000 pounds total.

The transport aircraft is certified to operate in three configurations: an all-passenger configuration that can carry 121 passengers, an all-cargo configuration of eight cargo pallets, or a combination configuration that will accommodate up to three cargo pallets and 70 passengers.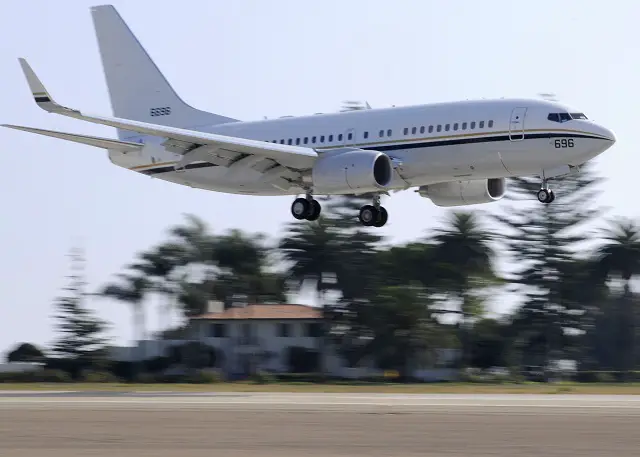 A C-40 Clipper assigned to Fleet Logistics Support Squadron (VR) 57 lands at Naval Air Station North Island. (Picture: US Navy)
Since fleet induction in 2001, C-40As have flown nearly 176,000 flight hours in support of fleet requirements. In 2014, the Clipper logged more than 16,500 flight hours supporting over 1,700 missions. It carried more than 108,800 passengers and 10 million pounds of cargo.

The aircraft will be assigned to Fleet Logistics Support Squadron (VR) 61, Naval Air Station (NAS) Whidbey Island, Washington, who will join the other four reserve squadrons flying navy-unique, fleet-essential airlift missions: VR-56 at NAS Oceana, Virginia; VR-57 at NAS North Island, California; VR-58 at NAS Jacksonville, Florida; and VR-59 at Joint Reserve Base Ft. Worth, Texas.

The U.S. Navy is scheduled to deliver an additional C-40A aircraft to VR-61 in early spring 2015.