a
Naval Forces News - Russia
Russian Navy third Project 22350 frigate Admiral Golovko launch pushed back to 3rd quarter of 2017
A ceremony of floating out the third
Project 22350
frigate
Admiral Golovko
has been postponed to the third quarter of 2017, the Northern Shipyard's press office told TASS on the eve of the Army 2016 international military and technical forum.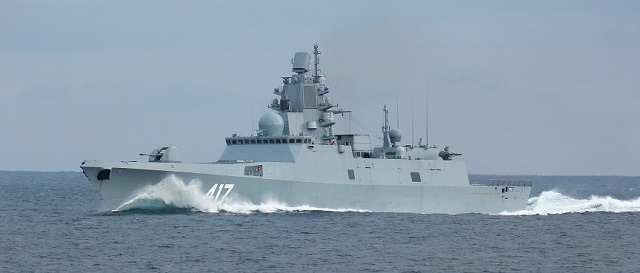 The first ship of the new Russian Navy frigate project 22350 class "Admiral Gorshkov" at full speed

The Northern Shipyard is currently building the Project 22350 frigate Admiral Golovko.
"The third Project 22350 frigate Admiral Golovko is planned to be put afloat in the third quarter of 2017,"
the press office said.
Former Russian Navy Commander-in-Chief Admiral Viktor Chirkov said earlier that the frigate would be floated out in 2016.
Outfitting work is currently being carried out onboard the second Project 22350 frigate Admiral Kasatonov. The frigate is also undergoing dock trials, the press office said.
"The work is being carried out in strict compliance with the schedule. The ship is planned to accommodate its crew members before the end of 2016,"
the press office said.
"The ship's main engines have been aligned, electric and special equipment is being loaded. The organic power supply system has been activated onboard the frigate. Work is currently under way to prepare compartments for painting,"
the press office added.
The Project 22350 lead frigate Admiral Gorshkov was laid down in 2006 and started undergoing trials in 2014. The frigate has not been made operational yet. It is expected to join the Navy in November. The Project 22350 frigate has a displacement of 4,500 tons. The frigate is armed with Oniks (SS-N-26) and Kalibr (SS-N-27 Sizzler) missiles, the Poliment-Redut air defense missile system and other weapons. The Russian Navy is expected to receive six Project 22350 frigates.
© Copyright 2016 TASS. All rights reserved. This material may not be published, broadcast, rewritten or redistributed.


Link to
Admiral Gorshkov (Project 22350) Frigate technical datasheet