a
Naval Industry News - Russia
Names of Project 636.3 Submarines for Russian Pacific Fleet Revealed
The third, fourth, and fifth Project 636.3 diesel-electric submarines for the Russian Pacific Fleet will be named Magadan, Ufa, and Mozhaisk, revealed Igor Ponomaryov, the United Shipbuilding Corporation vice-president for defense production.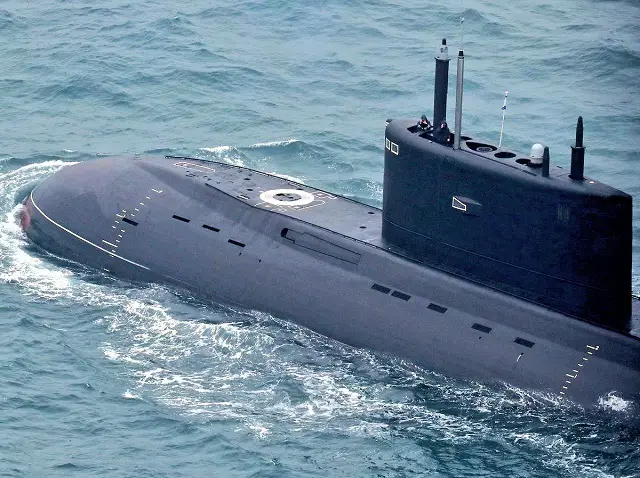 A Project 636.3 submarine of the Russian Black Sea Fleet transiting in the Dutch EEZ. Royal Netherlands Navy picture.

"The fleet officials decided on the names Magadan, Ufa, and Mozhaisk. The sixth submarine's name has not been chosen yet," he said.

The first two Project 636.3 submarines for the Pacific Fleet were laid down in July. They got the names of Petropavlovsk-Kamchatsky and Volkhov,

Project 636.3 submarines belong to the third-generation diesel-electric boats. They are believed to be among the word's most silent subs. They can gather surface speed of up to 20 knots and dive to around 300 m. The submerged endurance is 45 days. The submarine has a crew of 52. Its submerged displacement is around 4,000 tonnes. It is planned to build six such submarines for the Pacific Navy by the year 2022.


© Copyright 2017 TASS. All rights reserved. This material may not be published, broadcast, rewritten or redistributed.