a
Naval Aviation News - Russia

Russian Helicopters ready to upgrade about eight Ka-27s a year for Naval Aviation

The Russian Helicopters Corporation (a subsidiary of Rostec) is ready to modernize about eight Kamov Ka-27 (NATO reporting name: Helix) multirole helicopters per annum for the Russian Navy, the firm's press office has told TASS.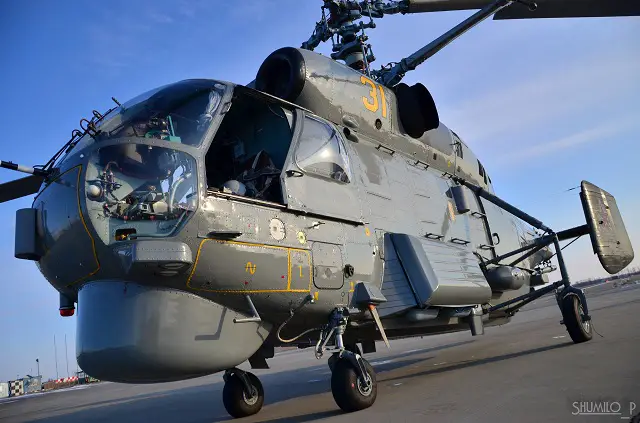 A Ka-27M maritime helicopter, upgraded variant of Ka-27PL of the Russian Navy. Picture by Paul Shumilo.
"Russian Helicopters will upgrade the type in accordance with the contracts to be placed by the Defense Ministry and with the customer's requirements. At present, the Kumertau Aircraft Plant's manufacturing facilities allows the modernization of around eight Ka-27 helicopters a year," the press office said.

Previously, the Russian Navy's air arm chief, Igor Kozhin, had said that all in-service Ka-27s would be upgraded.

The Ka-27 multirole helicopter is the mainstay of the helicopter units of the Naval Aviation. It is used in the maritime surveillance, antisubmarine/antisurface warfare and search-and-rescue roles.

© Copyright 2017 TASS. All rights reserved. This material may not be published, broadcast, rewritten or redistributed.

Comments by Navy Recognition
As of December 2016, 8 Ka-27PL were modernized to Ka-27M standard and transferred to the Russian Navy. Scope of the modernization includes Phazotron-NIIR Boomerang combat system coupled with the new FHA

active phased array

radar, the new Kema sonobuoy system with RGB-16MK sonobuoys, upgraded dipping sonar, new MMS-27 fixed magnetic anomaly detector, upgraded ESM, datalink and

signals intelligence systems.