---
According to information published by the Daily Sabbah on November 4, 2021, the Eastern Mediterranean 2021 drills hosted by Turkey and organized by the Turkish Naval Forces Command started.
Follow Navy Recognition on Google News at this link
---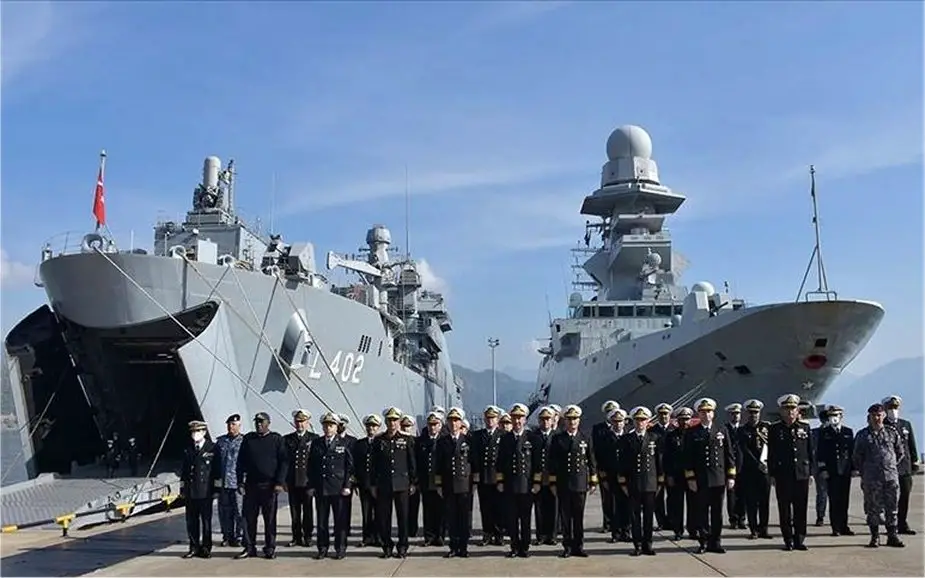 Bayraktar-class tank landing ship TCG Bayraktar (Picture source: Anadolu Agency)
---
The drills will be monitored by 11 observers from Iraq, Bahrain, Libya, Nigeria, Pakistan, Oman, and Ukraine.
The Bayraktar class is a class of landing ship tanks (LSTs) built in Turkey. The two amphibious vessels of the class were built for the Turkish Navy by Anadolu Shipyard. The LSTs will satisfy the current and future operational requirements of the Turkish Naval Forces Command.
The LSTs are primarily intended for amphibious missions and transportation of troops and equipment, while their secondary missions include humanitarian aid, disaster relief, medical assistance and transportation.
Each vessel has an overall length of 138.75 metres (455 ft 3 in), a beam of 19.60 metres (64 ft 4 in) and a draught of less than 2 metres (6 ft 7 in) forward and less than 5 metres (16 ft 5 in) aft when fully loaded. The displacement of the vessel is 7,125 long tons (7,239 t) and the load-carrying capacity is 1,180 long tons (1,200 t), including a mix of vehicles or cargo on open decks.
The Turkish LSTs are armed with two OTO Melara 40 mm Fast Forty single naval gun mounts, two Mk 15 Phalanx close-in weapon systems (CIWS), and two machine guns on remotely controlled stabilised mounts. The amphibious ships feature a Smart Mk2 3D air/surface search radar, AselFLIR 300D EO director, torpedo countermeasures systems and a laser warning receiver. The sensors and weapons aboard the vessel will be controlled by Genesis CMS.
---