a
Naval Industry News - Netherlands, Ecuador
Ecuadorian Coastguard to get fourth locally built Damen Stan Patrol 2606 patrol boat
Astilleros Navales Ecuatorianos EP - has recently awarded Damen Shipyards Group the contract for a fourth Patrol Vessel of the Damen Stan Patrol 2606 type. This contract represents the last of this SPa 2606 series for the Ecuadorian Coastguard to be builtlocally.

In Guayaquil, Damen will deliver the detailed engineering of the vessel together with a complete material package. The Ecuadorian Coastguard presently operates three Damen Stan Patrols 2606, all of them having a length of 26,50 m (87 ft), outfitted with state of the art equipment and reaching 30 knots.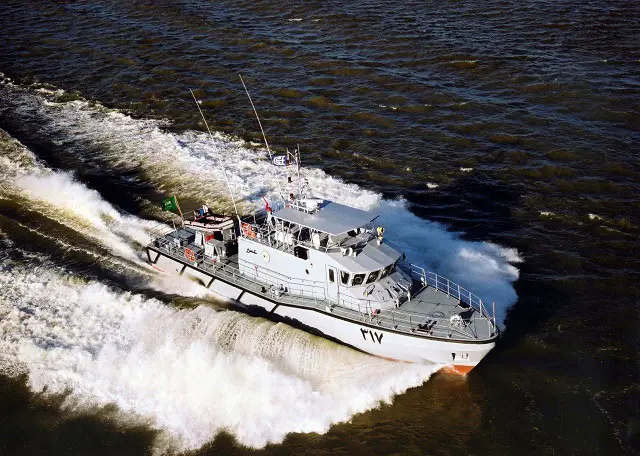 Saudia Arabia's Damen Stan Patrol 2606 Al Dharhan
Technology transfer
Considering Astinave's experience, gained in the previous projects, in building these kinds of constructions, it will not be necessary to make use of on-site technical assistance from Damen for this project. This signifiesthe fact that a real transfer of knowledge and technology has taken place, a process which started more than 10 years ago when the Strategic Alliance Framework Agreement was signed between Damen and Astinave.

In the last few years Astinave has built a great number of vessels in cooperation with Damen, including tugs, cutter suction dredgers, fast crew suppliers and patrol vessels. In addition, Damen organised the process in such a way that Astinaveactively expanded its shipbuilding knowledge, including building ships according to the Damen Standard. The company's personnel received theoretical and practical training at Damen Shipyards Gorinchem (Damen's HQ in the Netherlands) and other locations in order to mutually achieve a high level of quality in present and future projects.

Building-on-Site
This project is another example of how Damen, through its 'Building-on-Site' programme (aka Damen Technical Cooperation), enables customers to build high quality vessels in their own countries and/or a shipyard of their own choice, gaining experience and being able to contribute to the development of the local shipbuilding industry and economy. This concept has proven to be successful over thirty years in five continents in different market segments. Only taking into account Latin America, there are currently Damen vessels under construction at third party shipyards in, amongst others, Mexico, Ecuador, Brazil and Argentina.