a
Naval Defense Industry News - USA, Sweden
Exelis to supply Sweden with ES-3701 maritime electronic warfare systems for Gotland class SSK
Exelis has been awarded a contract valued at more than $17 million to provide electronic support measures (ESM) technology and services to Sweden through a subcontract with shipbuilder Saab, in Sweden. Under the contract, Exelis will provide Swedish submarines with the latest model of the sophisticated ES-3701 electronic warfare (EW) system, offering a significant capability boost in the areas of situational awareness, targeting, self-protection and surveillance.

In March 2013, Kockums (now part of Saab) received an order for an overhaul for two of the Gotland-class submarines. The overhaul is expected to be completed by 2017. With these upgrades, the submarines will be able to remain in active duty until after 2025. On 2 April 2014, the Swedish defence minister announced that all three submarines are to be overhauled.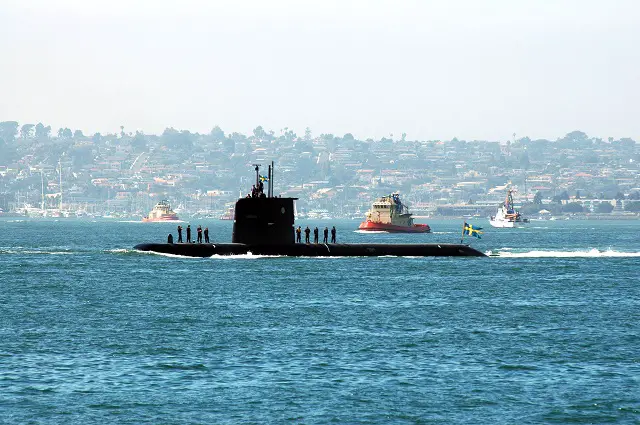 The Swedish diesel-powered attack submarine HMS Gotland transits through San Diego Harbor. Picture: US Navy
"The ES-3701 is the ideal ESM system for submarines and surface ships and is widely deployed with allies around the world. Our ESM technology will equip Sweden to handle a range of emerging threats they face, now and in the future," said Dave Prater, vice president and general manager of the Exelis radar and reconnaissance systems business. "Our understanding of the threat landscape and our experience has helped make Exelis a leading provider of maritime EW systems that support our customers' critical missions around the world."

The ES-3701 uses a circular array interferometer antenna. This provides precise direction finding over a 360-degree azimuth and at high elevation while maintaining a 100 percent probability of interception.
Through digital technology and modern signal processing, the system intercepts, measures and identifies complex signals, (including Frequency Modulated Continuous Wave) in dense radio frequency environments even in the presence of interfering signals.

The ES-3701 is part of a suite of other Exelis EW technologies designed to enable domestic and international customers to perform their critical missions. Leveraging its decades of innovation and experience in the electromagnetic spectrum, Exelis has identified EW as one of the company's four strategic growth platforms.