a
Naval Forces News - USA
Ingalls Shipbuilding Awarded Contract to Build Sixth U.S. Coast Guard National Security Cutter
Huntington Ingalls Industries announced today that the U.S. Coast Guard has awarded a $487 million, fixed-price-incentive-fee contract to its Ingalls Shipbuilding division to build the sixth National Security Cutter, Munro (WMSL 755).

"Our Coast Guard customer continues to be extremely pleased with the performance of the NSC, and this contract proves that," said Jim French, Ingalls' NSC program manager. "Our shipbuilders continue to execute well on this contract, and the design/build plan is at a mature stage. We currently have two more ships under construction and expect to start NSC 6 in October."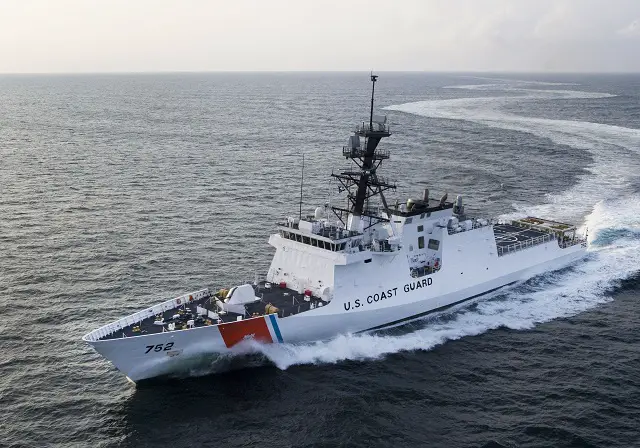 Ingalls Shipbuilding has received a $487 million contract to build the sixth National Security Cutter (NSC), Munro (WMSL 755). The third NSC, Stratton (WMSL 752, pictured) was commissioned in 2012, and two more are currently under construction at Ingalls.
NSCs, the flagships of the Coast Guard's cutter fleet, were designed to replace the 378-foot Hamilton-class high-endurance cutters, which entered service during the 1960s. Ingalls has delivered the first three. The fourth, Hamilton (WMSL 753), currently at 40 percent complete, is scheduled to launch this summer and will be christened in October.

Keel-laying for the fifth NSC, James (WMSL 754), is set for May 17. The ship is currently 17 percent complete and will launch in the spring of 2014. A long-lead material contract for Munro was awarded in 2012, and all associated equipment has been ordered.

Ingalls builds, integrates and tests the NSC hull, mechanical and electrical (HME) systems, while Lockheed Martin provides the command, control, communications, computers, intelligence, surveillance and reconnaissance (C4ISR) capabilities onboard the cutters.

NSCs are 418 feet long with a 54-foot beam, displacing 4,500 tons with a full load. They have a top speed of 28 knots, a range of 12,000 miles, an endurance of 60 days and a crew of 110.

The Legend-class NSC is capable of meeting all maritime and national security mission needs required of the high-endurance cutter, including new requirements in support of Arctic exploration. The cutter includes an aft launch and recovery area for two rigid-hull inflatable boats and a flight deck to accommodate a range of manned and unmanned rotary wing aircraft. It is the largest and most technologically advanced class of cutter in the Coast Guard, with robust capabilities for maritime homeland security, law enforcement, marine safety, environmental protection and national defense missions. This class of cutters plays an important role enhancing the Coast Guard's operational readiness, capacity and effectiveness at a time when the demand for their services has never been greater.