Project 20180 Academician Kovalyov Armament Support Ship Commissioned in Russian Navy
| | |
| --- | --- |
| | The Project 20181 armament support ship Academician Kovalyov has joined Russia's Northern Fleet, a TASS correspondent reported from the scene on Friday. The St. Andrew's flag was solemnly raised on the vessel berthed at the Zvyozdochka Shipyard. The Project 20181 armament support ship Academician Kovalyov and other vessels of the same type will enhance the Russian Navy's operational capabilities considerably, Northern Fleet Commander Admiral Vladimir Korolyov said... |
a
Naval Forces News - Russia
Project 20180 Academician Kovalyov Armament Support Ship Commissioned in Russian Navy
The Project 20181 armament support ship Academician Kovalyov has joined Russia's Northern Fleet, a TASS correspondent reported from the scene on Friday. The St. Andrew's flag was solemnly raised on the vessel berthed at the Zvyozdochka Shipyard. The Project 20181 armament support ship Academician Kovalyov and other vessels of the same type will enhance the Russian Navy's operational capabilities considerably, Northern Fleet Commander Admiral Vladimir Korolyov said while signing the acceptance report.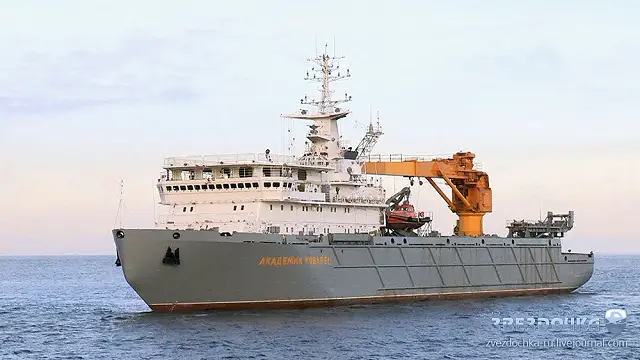 Project 20180 Academician Kovalyov in sea trials
Picture from zvezdochka-ru

"Its operational capabilities are really impressive, in particular, improved navigability, the carrying capacity for organic weapons, its multifunctionality and increased comfort," the commander said. But the main thing is that the new vessel "will enhance the operational potential of virtually all the fleets, including distant ocean areas," Korolyov said.

The ship's reinforced ice class will simplify logistics virtually all across Russia's Arctic, he said. "It is a unique day today. A flag-raising ceremony is a unique event. The vessel has received its birth certificate and become the Russian Navy's combat unit. The ship incorporates a number of solutions that are principally new in our ship-building sphere. We were waiting for them for several decades," Korolyov said.

"We have built a good ship, which has been proved by the trials we conducted on the basis of the ship Vladimir Monomakh," the Northern Fleet's commander said.

The Project 20180 Academician Kovalyov reinforced ice-class armament support ship was set afloat in summer 2014 for outfitting. The ship is designed for handling and carrying naval armament. It has a total displacement of about 6,000 tons, a length of 107.6 m and a maximum speed of 14 knots. The project 10180 armament support ships mount three cranes of two types and of different lifting capacity. The transport carries a Kamov Ka-27 (NATO reporting name: Helix) helicopter or a derivative thereof. The Russian Defense Ministry awarded the order for the Academician Kovalyov in September 2011. The Project 20180 armament support ship was derived from the Project 10180 Zvyozdochka seagoing rescue tug built by the Severodvinsk-based shipyard and delivered in 2010.

© Copyright 2015 TASS. All rights reserved. This material may not be published, broadcast, rewritten or redistributed.