a
Naval Industry News - France, Norway
DCNS and local partners deliver sixth Skjold FPB to the Royal Norwegian Navy
On 26 April 2013, DCNS and its local partners delivered the sixth and final
Skjold-class fast patrol boat
to the Royal Norwegian Navy. The six-boat Skjold programme is led by a consortium comprising DCNS and two Norwegian contractors with DCNS acting as the combat system design authority and co-supplier.
The Norwegian authorities entrusted the Skjold programme to a consortium of three contractors with DCNS as the combat system design authority and co-supplier. DCNS is working with Norwegian contractors Umoe Mandal and Kongsberg Defence & Aerospace, through the Skjold Prime Consortium.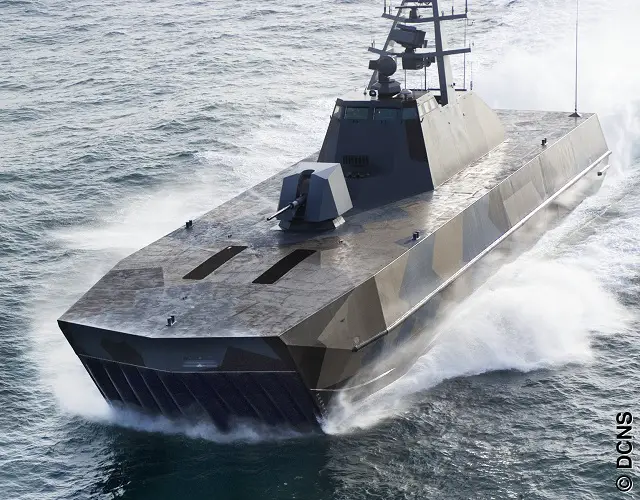 Skjold class FPB
Picture: DCNS

Skjold FPBs are designed specifically for maritime safety and security missions in Norway's littoral waters. The combat system is tailored to demanding environments and reduced crewing. The communication systems and sensor suites are fully compatible with active participation in international and NATO-led operations. In addition, the vessels' communication capabilities are being further upgraded with a state-of-the-art satellite communication system.
With a length of around 50 metres, Skjold-class FPBs are heavily armed for vessels of their size. The combat system features eight anti-ship missiles and a 76-mm gun that can engage several targets at once at ranges exceeding 12 kilometres.
First-of-class P961-Storm was handed over to the Royal Norwegian Navy in September 2010. Second-of-class P962-Skudd was delivered in October 2010 and third-of-class P963-Steil in June 2011. Fourth-of-class P964-Glimt was delivered in March 2012 and fifth-of-class P965-Gnist in November 2012.
Recently, the Norwegian Defence Logistics Organisation (NDLO) awarded an additional contract to DCNS for the follow-on technical support of the SENIT 2000 Combat Management System (CMS) on the six Skjold vessels.
The Skjold programme owes its success to a long-standing partnership between DCNS and its Norwegian partners. Between 1997 and 2004, DCNS also demonstrated its expertise in combat system design and development as prime contractor for the upgrade of 14 Hauk-class FPBs for the Royal Norwegian Navy.
Link to Skjold class FPB technical datasheet