a
World Navy Force News - India/Boeing
Indian Navy Boeing P-8I Maritime Patrol Aircraft completes first flight
The first P-8I aircraft for the Indian Navy completed its initial flight on September 28, taking off from Renton Field at 12:02 p.m. Pacific time and landing two hours and 31 minutes later at Boeing Field in Seattle.

During the flight, Boeing test pilots performed airborne systems checks including engine accelerations and decelerations and autopilot flight modes, and took the P-8I to a maximum altitude of 41,000 feet prior to landing. In the coming weeks Boeing will begin mission systems installation and checkout work on the aircraft at a company facility near Boeing Field.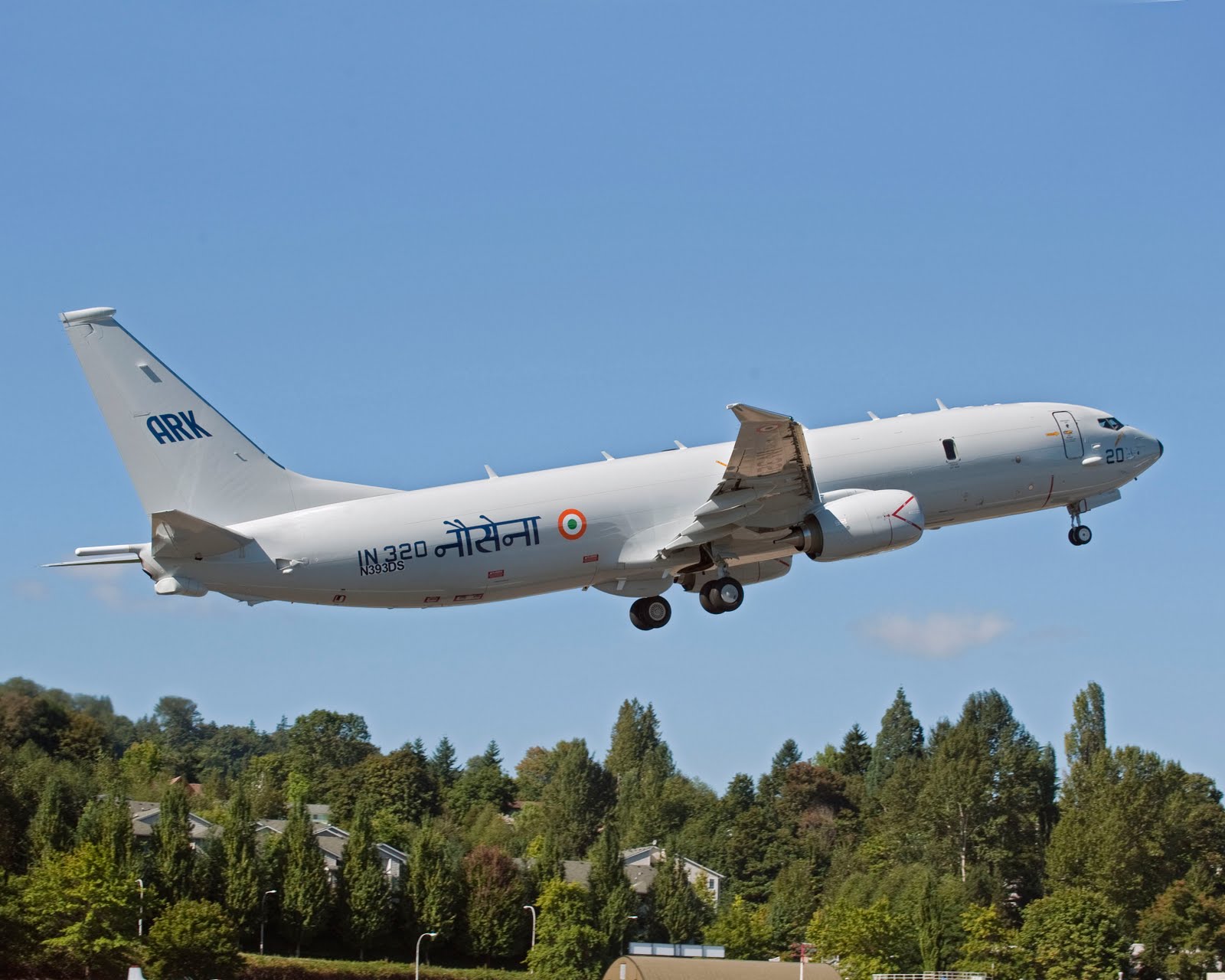 Indian Navy P-8I takes off from Renton Field for its first flight
(picture: Boeing)
"The P-8I program is progressing well and we are looking forward to this potent platform joining the Indian Navy as part of its fleet," said Rear Adm. DM Sudan, assistant chief of Naval Staff (Air), Indian Navy.

"The P-8I will provide India with the necessary speed and reliability to satisfy the Indian Navy's maritime reconnaissance and anti-submarine warfare requirements," said Dinesh Keskar, Boeing India president.

Based on the Boeing Next-Generation 737 commercial airplane, the P-8I is the Indian Navy variant of the P-8A Poseidon that Boeing is developing for the U.S. Navy. In order to efficiently design and build P-8 aircraft, the Boeing-led team is using a first-in-industry, in-line production process that draws on the company's Next-Generation 737 production system.

"Flying the first P-8 for an international customer is a key milestone for our entire team," said Leland Wight, Boeing P-8I program manager. "We have transitioned to P-8I production, and remain on track to deliver the first aircraft to the Indian Navy in 2013."
Indian Navy P-8I during its first flight
(picture: Boeing)
The P-8I is the first of eight long-range maritime reconnaissance and anti-submarine warfare aircraft Boeing is building for India as part of a contract awarded in January 2009. An option for four additional P-8I aircraft was included in the original contract.

The aircraft features open system architecture, advanced sensor and display technologies, and a worldwide base of suppliers, parts and support equipment. The P-8I is built by a Boeing-led industry team that includes CFM International, Northrop Grumman, Raytheon, Spirit AeroSystems, BAE Systems and GE Aviation.
Indian Navy P-8I first flight
(copyright: Boeing)