a
Naval Industry News - USA
Ingalls-built Amphibious Transport Dock Somerset (LPD 25) Completes Acceptance Trials
Huntington Ingalls Industries announced today that the amphibious transport dock Somerset (LPD 25) returned from successful U.S. Navy acceptance sea trials on Sept. 20. The company's ninth ship in the San Antonio (LPD 17) class returned to the company's Avondale facility following three days of at-sea demonstrations and testing.

The 684-foot-long vessel's primary mission is to transport up to 800 Marines, their fighting vehicles and aircraft.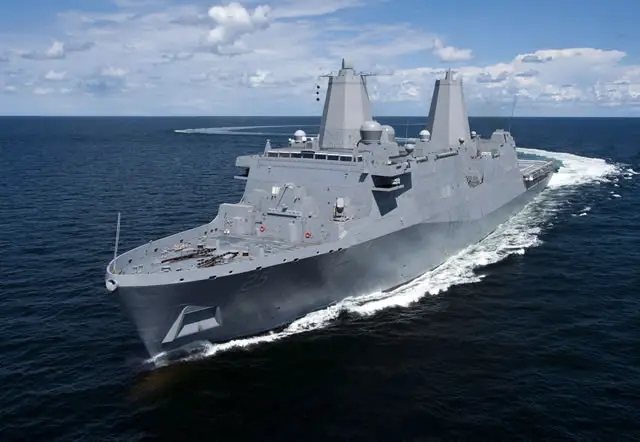 The Ingalls-built amphibious transport dock Somerset (LPD 25) sails through the Gulf of Mexico during builder's sea trials. Photo by Steve Blount

"We have now completed successful sea trials on nine LPDs, and each ship continues to get better than the previous one," said Mike Duthu, Ingalls' director of the LPD program. "Our shipbuilders, and specifically the LPD 25 team, did an outstanding job in getting this ship prepared for this trial."

"Somerset proved herself ready as we demonstrated major systems onboard the ship," Duthu said. "We have a very active production line associated with the LPD program, and through our new build strategies, more outfitting is taking place earlier in the process, which improves our efficiency. We will continue this trend on LPD 26 and LPD 27."

The U.S. Navy's Board of Inspection and Survey (INSURV) observed more than 200 test events performed on the ship by Ingalls' test and trials team. The team thoroughly tested the ship's systems, including anchor handling, flight operations, steering, navigation, and ballasting and de-ballasting the well deck and a full power demonstration.
Video: HII
"LPD 25 is a great ship, and she performed well for INSURV," said Richard Schenk, Ingalls' vice president of test and trials. "Once again, our strong partnership with the Navy/SupShip team worked well during this acceptance trial. This trial is a credit to the test and trials team and all the dedicated shipbuilders who played a part in building Somerset. A 'well done' to everyone associated with this acceptance trial."

Somerset is named to honor the courage of the passengers and crew members of United Airlines Flight 93, which crashed on Sept. 11, 2001, near Shanksville in Somerset County, Pa.

The ships are meant to provide the Navy and Marine Corps with modern, sea-based platforms that are networked and survivable. They have the capability of transporting and debarking air cushion or conventional landing craft and expeditionary fighting vehicles, augmented by helicopters or vertical takeoff and landing aircraft, such as the MV-22 Osprey.

Two other LPDs are also under construction at the Pascagoula shipyard. John P. Murtha (LPD 26) is slated for completion in 2016, and Portland (LPD 27) will complete in 2017.

In addition to more than 10,000 Ingalls shipbuilders, there are 650 suppliers from 38 states that support the LPD 17 program. Ingalls spends approximately $175 million a year with this vital industrial base.