a
Naval Forces News - USA
U.S. military to deploy latest equipments in Asia-pacific region: U.S. Pacific Fleet chief
The U.S. military is deploying the newest and best equipment, weapons and human resources into the Asia-Pacific region to fight against regional security threats, indicating the region's immensely importance to the interests of the United States, U.S. Pacific Fleet Commander Admiral Harry B. Harris said Friday.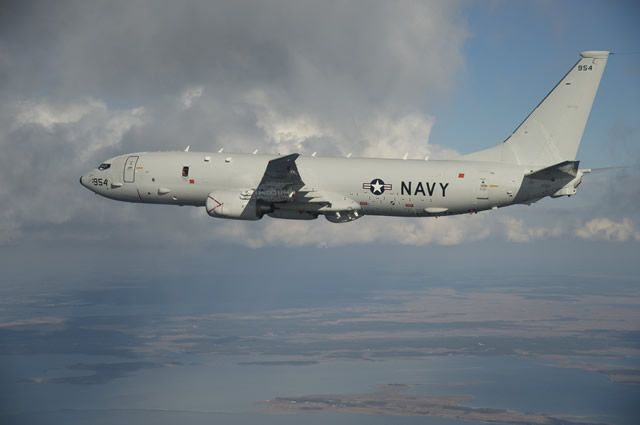 A P-8A Poseidon conducts a weapons test with the Harpoon. After an extensive testing period, the P-8A program passes Initial Operational Test and Evaluation and is found "operationally effective, operationally suitable, and ready for fleet introduction." (U.S. Navy photo)
Harris, who was promoted to admiral and assumed command of the U.S. Pacific Fleet in October 2013, paid his first visit to South Korea following his trip to Japan.
"We are putting the best equipment we have forward in the Pacific before we send them anywhere else," Yonhap news agency quoted Harris as saying.
The admiral said the U.S. Navy will soon replace the P-3C Orion with the newest maritime patrol aircraft, the P-8A Poseidon, for its first deployment in Japan.
Besides, the DDG-1000 Zumwalt-class stealth destroyer will join in the Pacific Fleet and the Littoral Combat Ship will rotate near Singapore. MH-60 maritime helicopters and Virginia-class attack submarines in Hawaii are also on the list of latest weapons.
Harris called this move as a "physical manifestation" and said the U.S. government's budget cut on the military policy will not affect its rebalance commitment toward Asia and the Pacific.
"Maintaining stability, peace and prosperity is what the U.S. rebalance to the Pacific is all about. And a key component to that policy is strengthening our regional alliances and partnerships," said Harris.
He said he is committed to deepening the maritime element of their defense relationships with all of their regional allies and partners, adding that his visit to Seoul was to reassure their South Korean partner of the rebalancing to the Pacific.
Harris also noted that the U.S. army is keeping a close eye on the Democratic People's Republic of Korea (DPRK), pledging strong joint deterrence capabilities to deter threats by the DPRK with missiles and nuclear weapons.