a
Naval Industry News - Italy
Fincantieri delivers Second Italian FREMM Frigate "Virginio Fasan"
The delivery of the Italian FREMM "Virginio FASAN", the first in ASW configuration, was held yesterday at the FINCANTIERI shipyard in Muggiano (La Spezia). The FASAN was delivered to the Customer with an outstanding state of readiness. All the scheduled complex and meaningful operations were performed in due time. Within the current framework of the FREMM Programme for Italy eight vessels are included and an option for additional two, which has still to be exercised.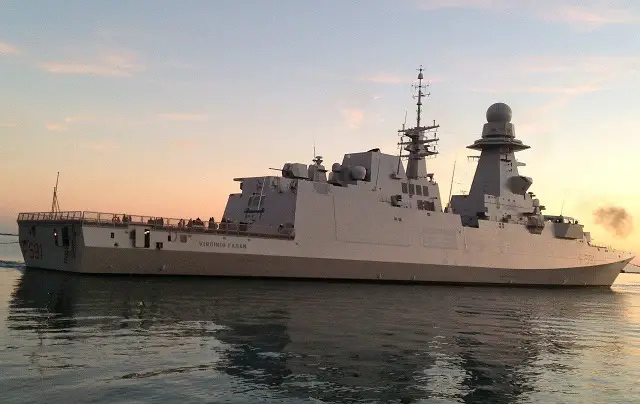 Italian Navy FREMM Virginio Fasan is the first in ASW configuration
Picture: Fincantieri
The whole Programme is in line with the scheduled timeline thanks to the cooperative synergy among OCCAR, Italian Navy and national Industries. OCCAR (Organisation for Joint Armament Cooperation) is the contracting Authority for the FREMM Programme, Orizzonte Sistemi Navali (51% Fincantieri, 49% Selex ES) is the Prime Contractor for Italy.
The European cooperation through OCCAR is the real winning point of this terrific success.

The high level objectives achieved in 2013 have been:
• Start up of the works on the sixth Italian frigate
• Activation of the contractual option for the full in-service support
• Final delivery of the first-of-class general purpose Carlo BERGAMINI, fully operational
• Launch of the third Italian FREMM, Carlo MARGOTTINI and start of sea trials
• Delivery of the ASW Virginio FASAN, fully operational

The FREMM CARLO MARGOTTINI, the second in ASW configuration, is accomplishing its sea trials and will be delivered in the early months of 2014.

The Italian FREMM Frigates represent a technological excellence: 144 metres long with a displacement at full load of approximately 6,700 tons, the ships have been designed for achieving a maximum speed of over 27 knots and providing accommodation up to 200 people (crew and additional personnel), granting high degree of flexibility and the capability to operate in a wide range of scenarios and in all tactical situations.