a
Naval Defense Industry News - USA
U.S. Navy Awards Lockheed Martin $84 Million Contract for Production of Paveway II Enhanced Laser Guided Training Rounds
Lockheed Martin received an $84.5 million contract on Dec. 23 from the U.S. Navy to produce paveway II Enhanced Laser Guided Training Rounds (ELGTR). Under the four-year indefinite-delivery indefinite-quantity (IDIQ) contract, Lockheed Martin will deliver ELGTRs, shipping containers, logistics and product support to the U.S. Navy.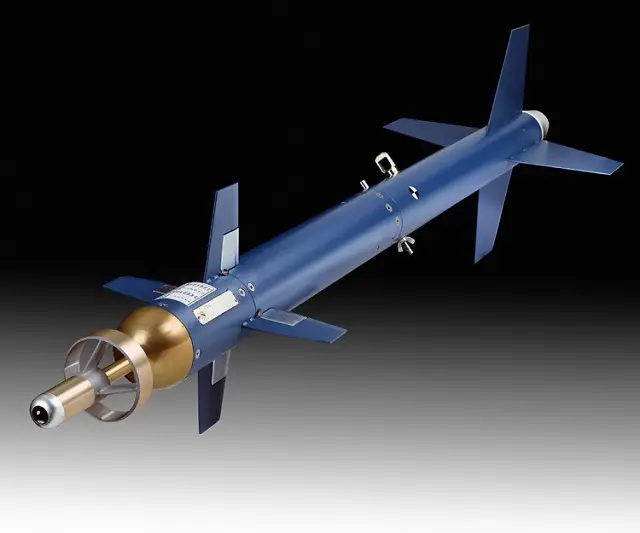 The Lockheed Martin paveway II Enhanced Laser Guided Training Round (ELGTR) provides realistic paveway II Laser Guided Bomb (LGB) (GBU-10/12/16) tactical employment training as an alternative to expending operational paveway II LGB assets.
(Picture: Lockheed Martin)

"Lockheed Martin remains committed to providing U.S. Navy aircrews with the most innovative, advanced and cost-effective training solutions," said Joe Serra, precision guided systems manager at Lockheed Martin Missiles and Fire Control. "We are nearing completion of multi-carriage ELGTR development, which will further increase training efficiency, proficiency and flexibility."
This contract extends delivery of ELGTRs to the U.S. Navy through 2018. Lockheed Martin has produced advanced training solutions for the U.S. Navy, Marine Corps and international customers since Laser Guided Training Round production began in 1992, and has delivered more than 130,000 training rounds to date.
ELGTR emulates cockpit indications, release and terminal characteristics of the paveway II laser guided weapon systems to provide affordable, high-performance aircrew training without depleting paveway II laser guided bomb (LGB) tactical inventory. Recognized worldwide as the only live-fire training solution for warfighters, the ELGTR is compatible with F/A-18,
AV-8B, F-16 and various international aircraft.
In addition to paveway II ELGTR, Lockheed Martin's 350,000-square-foot production facility in Archbald, Pa., designs and manufactures combat-proven paveway II Plus LGB kits. Lockheed Martin has delivered more than 70,000 LGB kits and 7,000 Dual Mode LGB kits to the U.S. Navy, Marine Corps, Air Force and international customers.