a
Naval Industry News - UK
CTruk releases new video showing its THOR (Twin Hulled Offshore Raider) in riverine configuration

CTruk have today released a new video of CTruk THOR (Twin Hulled Offshore Raider), an 11m vessel designed to fulfil a range of roles in the military, security and disaster relief sectors.

Complementing action shots of the Force Protection Craft variant at sea, the addition of an animated 3D sequence clearly demonstrates the range of possibilities that this composite, twin-hull base craft offers; Force Protection Craft, with a remote weapon system controlled from within the craft; Troop Carrier, with a focus on safe and efficient transport of troops to other vessels or beaches; or Riverine, a patrol vessel configuration providing extra fire power with quick response and high manoeuvrability features. The CTruk THOR Force Protection Craft variant incorporates a range of high-tech equipment provided by the CTruk CAP (Collaborative Amphibious Project) consortium.
THOR is a multi-role, reconfigurable and affordable vessel with a range of applications from force protection to disaster relief. THOR has a lightweight composite construction, which gives excellent fuel efficiency, thereby saving on operating costs and maximising time on task. With a length of 11m and a top speed in excess of 40 knots, THOR is fast and suitable for sustained operations over long distances and time periods. THOR is fitted with a remote weapon station and other crew served weapons and it can be rapidly deployed via a C17 or A400M, it can be carried in mission bays of surface combatants and also from a CTruk 50T mother ship.
Link to our interview onboard THOR during DSEI 2013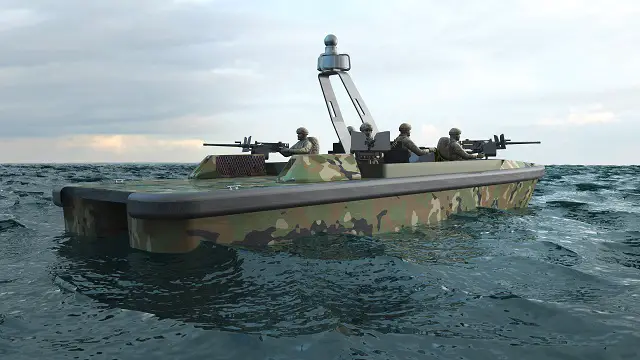 Thor in Riverine configuration
picture: CTruk