a
Naval Forces News - USA
Lockheed Martin Awarded Additional C4ISR Contract to Support the U.S. Coast Guard

Lockheed Martin received a $69 million contract to support the United States Coast Guard's efforts to enforce maritime sovereignty and address at-sea threats. Through this contract received from Huntington Ingalls Industries (HII), Lockheed Martin will provide the Command, Control, Communications, Computers, Intelligence, Surveillance and Reconnaissance (C4ISR) system for the United States Coast Guard's seventh National Security Cutter (NSC), the future USCGC Kimball.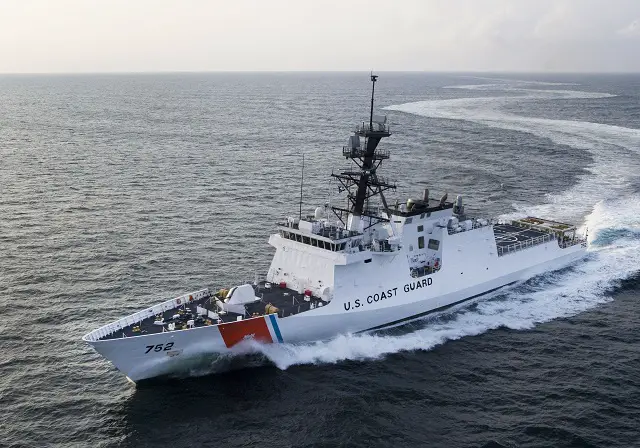 Lockheed Martin received a $69 million contract from Huntington Ingalls to provide the C4ISR system for the NSC 7. Lockheed Martin has developed the C4ISR systems for all six of the Coast Guard's National Security Cutters, including the USCGC Stratton shown above.
(Photo courtesy Huntington Ingalls Industries)
Lockheed Martin's C4ISR system offers comprehensive, real-time situational awareness, commonality and interoperability, which enables a greater collection and sharing of maritime data. It allows the crew to see vessels in distress or targets of interest; collaborate with other Coast Guard air, sea and land assets; and act on the most current information available.

"The NSC's C4ISR system is critical to ensuring the USCG can support the nation's maritime strategy," said Joe Buss, program director of Lockheed Martin's Coast Guard and Mission Control Systems. "Our brave men and women of the Coast Guard rely on the accuracy and timeliness of the data our system provides to achieve their many missions and maritime operations."

Lockheed Martin has a rich legacy in supporting the Coast Guard, and has provided the C4ISR systems to all six of the NSCs. The NSC is the largest and most technologically advanced multi-mission cutter in the Coast Guard fleet, with capabilities to support the service's homeland security, law enforcement, marine safety, environmental protection and national defense missions.