a
Naval Froces News - Poland
Polish Navy selects Saab's Double Eagle for Kormoran II class mine countermeasures vessels
Defence and security company Saab announces that the Polish Navy has chosen the Double Eagle system for the Kormoran II MCMV. The Double Eagle is in service with several navies, in the Baltic Sea, in the North Sea and around the world as a state of the art, well proven, low risk and extremely efficient mine countermeasures (MCM) underwater vehicle
The new generation of Double Eagle is able to operate both as a battery powered AUV and a as a conventional tethered ROV. Picture: Saab
"This adds another Navy to our client list for the Double Eagle System" says Agneta Kammeby, Vice President and Head of Saab's Business Unit Underwater Systems, "and shows that ROV's stills forms the base for MCM in all modern Navies".
Jason Howard, Head of Naval Segment CEE, Saab Market Area Europe and Greater Middle East, adds "this is further proof that Saab's efforts to position itself in the Polish naval market are starting to bear fruit. It is our belief that this achievement will increase Saab's chances to secure additional business in upcoming naval projects in Poland."
The Double Eagle concept uses a modular approach to provide flexible systems for MCM and Maritime Security. It is aimed at providing a hydro dynamically stable, highly reliable system with exceptional performance and low life cycle cost. The Double Eagle, available in MkII, MkIII and Sarov versions, is used by navies around the world on many types of ships. It has also been adapted to the craft of opportunities (COOP) concept where the Double Eagle is integrated in a container that easily can be installed on almost any type of ship.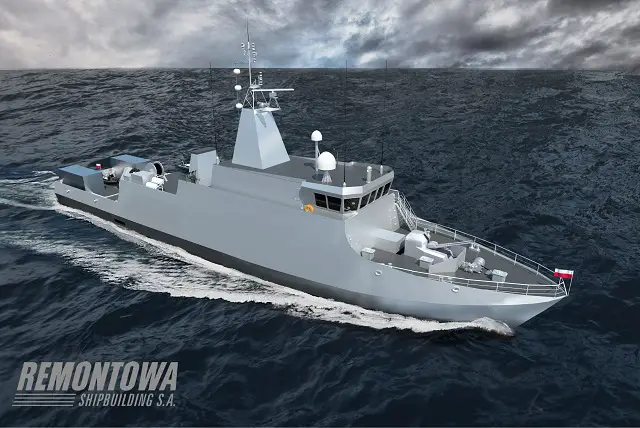 Artist impression of the Kormoran II class of MCM vessel. The ship is designed to locate and neutralize mines in the waters of the Polish maritime economic zone.
Image: Remontowa shipbuilding
The design was from day one targeted on modular design and open architecture with the possibility to replace main system elements. This allows upgrades and reconfiguration, enabling use of new technology and changes in naval tactics/strategy as part of an evolutionary strategy. This has led to a system where core functionality and core subsystems have been reused in several products and configurations, all to provide system with extreme stability yet still highly manoeuvrable.

The new generation of Double Eagle is able to operate both as a battery powered AUV and a as a conventional tethered ROV. As a new feature the AUV will be able to find and by automatic dock with the tether while still in the water. This will enable download of collected data and recharge of batteries without any risky launch and recovery operations.

Kormoran II class basic specifications:
Overall length 58.50 m
Max width 10,30 m
The height of the forecastle deck 6.40m
The height of the main deck aft 4,70 m
Displacement 850 t