a
Naval Forces News - USA
Aegis Newest Baseline Demonstrates Over the Horizon Capability in Series of Three Tests

The Lockheed Martin and U.S. Navy team's Baseline 9 Aegis Combat System recently completed multiple exercises including the longest-range engagement ever tested with a Standard Missile-6 (SM-6). This is the first major series of tests for the integrated air and missile defense (IAMD)-equipped USS John Paul Jones (DDG-53), and highlights the system's accuracy in identifying and destroying threats from beyond the radar horizon.

PACIFIC OCEAN (June 19, 2014) The Arleigh-Burke class guided-missile destroyer USS John Paul Jones (DDG 53) launches a Standard Missile 6 (SM-6) during a live-fire test of the ship's aegis weapons system. Over the course of three days, the crew of John Paul Jones successfully engaged six targets, firing a total of five missiles that included four SM-6 models and one Standard Missile-2 (SM-2) model. (U.S. Navy photo/Released)

The first of three Naval Integrated Fire Control-Counter Air (NIFC-CA) exercises involved a long-range mission, known as AS-2A, which used data from a non-Aegis system to identify targets in a stressing scenario. The second and third tests, AS-2B and AS-2C, were conducted in increasingly difficult conditions that involved targets at varying altitudes and cross-sections.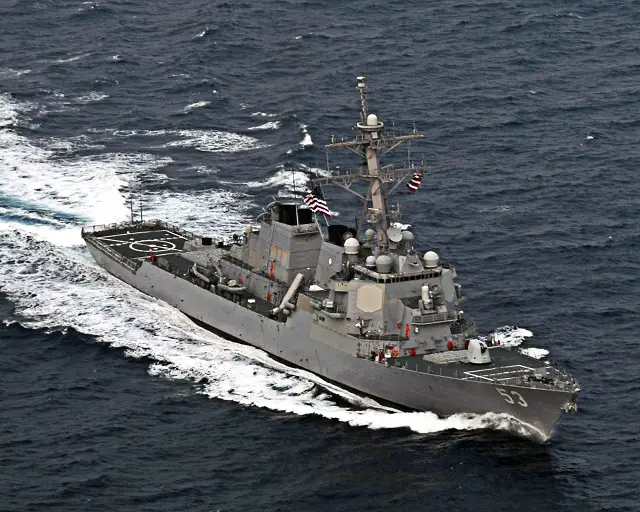 USS John Paul Jones (DDG 53)
(Picture: US Navy)

"NIFC-CA is a game changer for the U.S. Navy because it can be used in collaboration with other systems, to track and destroy approaching cruise missiles at much longer distances than existing technologies can," said Jim Sheridan, director of Aegis U.S. Navy programs for Lockheed Martin. "This validation of the NIFC-CA capability aboard a destroyer comes on the heels of the successful cruiser tests we completed onboard USS Chancellorsville back in August 2013 and we look forward to seeing this capability fielded in the fleet."

NIFC-CA will be deployed on the Theodore Roosevelt Battle Group in 2015 after completing additional testing this year.

PACIFIC OCEAN (June 19, 2014) The Arleigh-Burke class guided-missile destroyer USS John Paul Jones (DDG 53) launches a Standard Missile-6 (SM-6) during a live-fire test of the ship's aegis weapons system. Over the course of three days, the crew of John Paul Jones successfully engaged six targets, firing a total of five missiles that included four SM-6 models and one Standard Missile-2 (SM-2) model. (U.S. Navy photo/Released)