a
Naval Forces News - USA
Raytheon SM-6 Missiles Make History in Long-Range, Supersonic Tests

In a milestone series of three tests in June, the destroyer U.S.S. John Paul Jones used Standard Missile-6 interceptors to destroy cruise missile targets flying 'over the horizon' -- part of a Navy exercise that utilized a networked system of sensors, aircraft, and ship-borne weapons. Separately, the John Paul Jones used another Raytheon SM-6 to intercept a target traveling at supersonic speeds.

PACIFIC OCEAN (June 19, 2014) The Arleigh-Burke class guided-missile destroyer USS John Paul Jones (DDG 53) launches a Standard Missile 6 (SM-6) during a live-fire test of the ship's aegis weapons system. Over the course of three days, the crew of John Paul Jones successfully engaged six targets, firing a total of five missiles that included four SM-6 models and one Standard Missile-2 (SM-2) model. (U.S. Navy photo/Released)

The ability to effectively defend against distant, high-speed targets has become a critical priority at a time when a large number of nations are pursuing their own missile programs. According to a 2013 report from the National Air and Space Intelligence Center, more than 20 countries now have ballistic missile capabilities. Within the next decade, 20 nations could have cruise missiles.

The tests that achieved the double milestone – intercepting a supersonic target and using a network of systems to destroy a cruise missile beyond the horizon – were conducted in June. The exact distances involved are classified.

"If you want to defend against cruise missile attacks, the Standard Missile-6 is your weapon of choice," said Mike Campisi, Raytheon's SM-6 senior program director. "The missile's ability to use networked sensors to engage threats beyond the ship radar's horizon makes it the most advanced extended range area defense weapon in existence."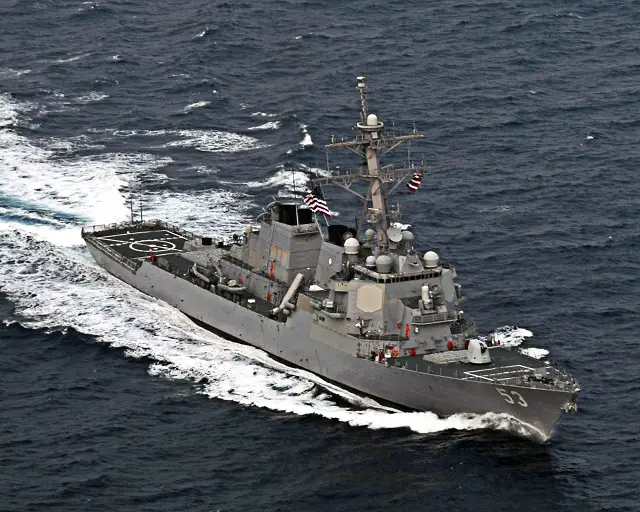 USS John Paul Jones (DDG 53)
(Picture: US Navy)

The first three tests, conducted under the Naval Integrated Fire Control-Counter Air (NIFC-CA) mission area, pitted SM-6 interceptors against subsonic, low-altitude target drones flying so far from the "threatened" ship that they were literally beyond the horizon. Under NIFC-CA, U.S. Navy ships operate a networked system of sensors, aircraft and weapons like the SM-6, which is designed to strike targets the ship can't see with its own 'eyes.'

Capt. Andrew Hesser, skipper of USS Chancellorsville (CG-62), told the U.S. Naval Institute News that NIFC-CA was a "big deal" and a "hugely important capability, because it extends the battle space."
In the final test, an SM-6 intercepted a high-altitude target drone traveling at supersonic speeds.

The four back-to-back flight test successes moved the SM-6 program closer to full operational capability.

"Combatant commanders want more deployed," said Campisi, who called the SM-6 the U.S. Navy's only missile with enhanced anti-air warfare capability. "We continue to exceed our cost reduction targets, allowing the Navy to increase order quantities even in a budget-constrained environment."

Raytheon was awarded $275 million in June for the procurement of 93 additional SM-6s.

The company has delivered more than 100 SM-6 interceptors to the U.S. Navy. The missile's final assembly takes place at Raytheon's state-of-the-art SM-6 and SM-3 all-up-round production facility at Redstone Arsenal in Huntsville, Ala.