a
Naval Industry News - USA
SAFE Boats International awarded contract for additional US Navy Mk VI Patrol Boats
SAFE Boats International (SBI) has been awarded a contract to provide the United States Navy four (4) additional Mk VI Patrol Boats (Mk VI PB); with options for an additional two (2) boats. The Mk VI PB is the Navy's next generation Patrol Boat and will become a part of the Navy Expeditionary Combat Command's (NECC) fleet of combatant craft.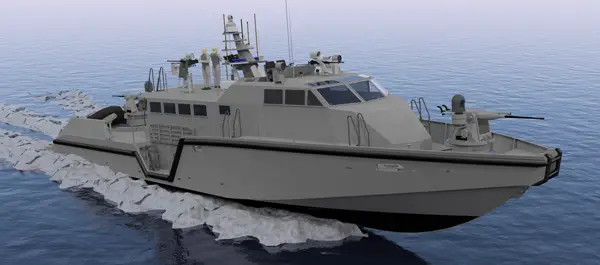 The Mk VI Patrol Boats mission, per the contract, is to provide operational commanders a capability to patrol shallow littoral areas beyond sheltered harbors and bays, and into less sheltered open water out to the Departure Sea Area (DSA) for the purpose of force protection of friendly and coalition forces and critical infrastructure.
SAFE Boats designed the 85-foot Mk VI PB for optimal performance, fuel economy, and firepower. Systems are designed to reduce Total Ownership Cost (TOC), minimize manpower and improve reliability and maintainability. Powered by twin diesel engines and water jets, the Mk VI PB is capable of speeds in excess 30 knots at full load. She has a range in excess of 600 nautical miles. Berthing accommodations, galley and head/shower facilities allow for extended missions. Additionally, the boat is fitted with ballistic protection and can be armed with a variety of crew served and remotely operated weapons systems.
Commander Pete Berning, U.S. Navy Coastal Riverine Force, introduces the Mark VI Patrol Boat during Sea-Air-Space 2014.
"SAFE Boats is proud to have been awarded this new contract for additional Mk VI Patrol Boats for the US Navy. The Mk VI Patrol Boat program represents a new level of size and sophistication for the SAFE Boats product portfolio; through the execution of this program, we have increased our boat design and manufacturing capabilities and capacity. We look forward to the future of the Mk VI Patrol Boat program and other similar large craft programs" said Dennis Morris, President and CEO, SAFE Boats International.

SBI was awarded the initial contract for six (6) Mk VI Patrol Boats in May 2012 and will be contractually delivering the first boat to the Navy later this Fiscal Year. SBI is producing the Mk VI Patrol Boats in its Large Craft Production Facility (LCPF) located in the Port of Tacoma, Washington. Originally developed to build ships for the US Navy during WWII, the size and configuration of the facility allows several Mk VI PB size craft to be under construction simultaneously. Located on the water, the LCPF provides SBI an ideal location to produce and support large craft.