a
Defense Industry News - Norway, USA
Raytheon and Kongsberg team to provide air-launched Offensive Anti-Surface Warfare solutions

Raytheon Company and Kongsberg Gruppen have formed a teaming agreement to provide new solutions for the Offensive Anti-Surface Warfare (OASuW) mission. As a centerpiece of the agreement, the companies will develop the Joint Strike Missile (JSM) for air-launched OASuW applications.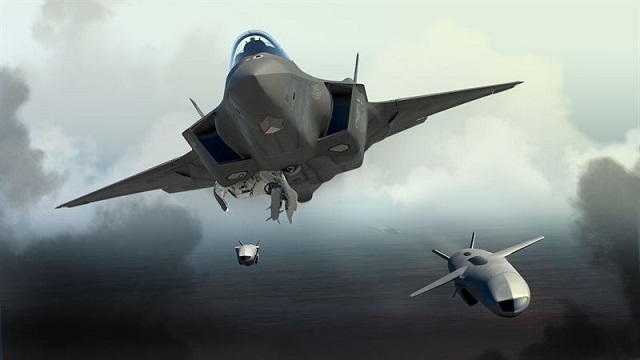 JSM and F-35 JSF
Image: Kongsberg

The Joint Strike Missile is already funded for development for the Royal Norwegian Air Force at a time when the United States Navy is considering cost-effective solutions for next-generation OASuW weapons systems.
"The U.S. and its allies gain new and innovative options in the OASuW arena through this agreement," said Dr. Taylor W. Lawrence, Raytheon Missile Systems president. "Raytheon's global development capability allows us to identify and offer the advanced and affordable solutions our customers require for the complex missions of the future."
Raytheon and Kongsberg have already collaborated successfully in the global market for ground-based air defense systems and in other fields.
"Our companies have worked together for decades on several projects and are ideally positioned to bring the Joint Strike Missile to customers worldwide," said Harald Ånnestad, Kongsberg Defence Systems president. "OASuW is a market where we can effectively team to deliver products that address the key requirements of the warfighter."

Link to JSM Joint Strike Missile anti-ship missile technical datasheet
Our interview on JSM and NSM during DSEI 2013