a
Naval Forces News - India
Indian Government approves extra purchase of 32 Dhruv helicopters for Navy & Coast Guard
The Indian Government yesterday approved INR 7000 crore ($1.1 billion) valued contract for procurement of 32 new HAL Dhruvs for Indian Navy and Coast Guard. The first ALH (Dhruv) Squadron was commissioned in the Indian Navy in November 2013. Dhruv is the first indigenously designed and manufactured helicopter at Hindustan Aeronautics Limited and with its multi role capabilities has proven her mettle in all the three services of the Armed Forces, Indian Coast Guard, BSF and in the inventory of foreign countries.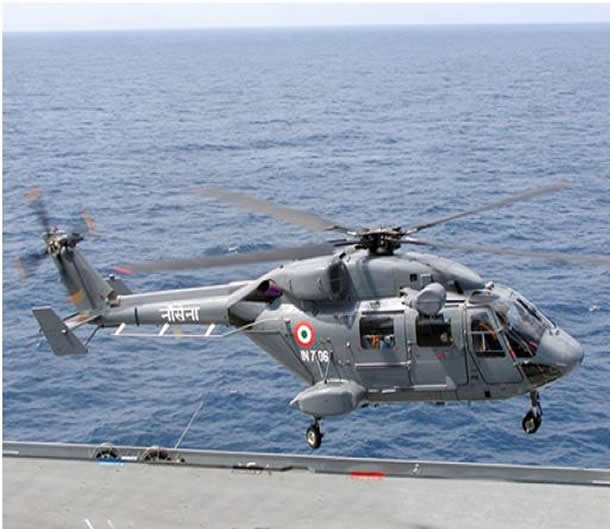 Indian Navy Commissions First Advanced Light Helicopter - Dhruv
Picture: Indian Navy
The ALH is a multi-role, multi-mission helicopter in 5.5 tonne class, fully designed and developed by HAL. Built to FAR 29 specifications, Dhruv is designed to meet the requirement of both military and civil operators.

Dhruv is designed to perform both utility and attack roles. With a twin-engine configuration, Dhruv allows continued flight virtually throughout the flight envelope. Dhruv incorporates a number of advanced technologies; Integrated Dynamic System (IDS), Anti-resonance Isolation System (ARIS), Full Authority Digital Electronic Control (FADEC), Hingeless Main Rotor, Bearingless Tail Rotor, and Automatic Flight Control System to name a few.