a
Naval Industry News - USA
Mobile Landing Platform USNS John Glenn (MLP 2) Completed Final Contract Trials
USNS John Glenn (MLP 2), successfully completed Final Contract Trials (FCT) off the coast of Manchester, Washington July 31. During the trials, the Navy's Board of Inspection and Survey along with the ship's crew tested the vessel's various hull, mechanical, and electrical systems to demonstrate that the ship meets Navy standards and requirements, and is materially ready to perform all of its slated in-service missions.

The Military Sealift Command mobile landing ship USNS John Glenn (MLP 2) underway off the California coast. John Glenn successfully completed Builder's Sea Trials on Jan. 13. The ship is expected to be delivered to the Navy in March following Acceptance Trails. (U.S. Navy photo/Released)

John Glenn, the second of the Navy's Mobile Landing Platforms (MLP), was constructed by General Dynamics National Steel and Shipbuilding Company (NASSCO). Since delivering to the Navy from NASSCO in March, her crew has moved onboard and begun training on the ship's systems in preparation for these trials. The ship is designed to facilitate the transfer of vehicles, supplies, equipment and personnel from large Maritime Pre-Positioning Force ships to on-shore locations using Landing Craft Air Cushion (LCAC).

"Highly versatile non-combatant vessels like John Glenn make our large scale at-sea missions possible," said Capt. Henry Stevens, Strategic and Theater Sealift Program Manager, Program Executive Office, Ships. "The ship's extensive vehicle and stowage space and remarkable transport capabilities will greatly facilitate operations across Geographic Combatant Commands, especially in areas where port access by larger ships is difficult or impossible."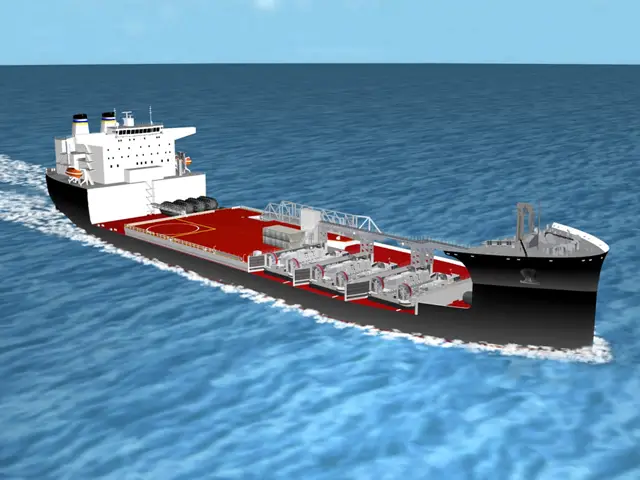 An artist concept of a mobile landing platform (MLP) ship
(Image: US Navy)

John Glenn leverages float-on/ float-off technology allowing it to partially submerge to support and execute a broad range of military missions including humanitarian support and sustainment of traditional military missions. With its core capability set, MLP 2 features 25,000 square feet of vehicle and stowage space, a vehicle transfer ramp, large mooring fenders, and space for up to three LCAC. The platform's open, reconfigurable mission deck will serve as an important flexible and transformational asset to the Navy as it can be reconfigured to support a wide variety of future operations.

Since completing FCT less than a year ago, the Navy's first MLP, USNS Montford Point has already begun demonstrating her core capabilities. In June, the platform's vehicle transfer ramp capabilities and the capability to perform skin-to skin operations were demonstrated as Montford Point's ramp was deployed, attached to USNS Bob Hope (T-AKR 300), and then recovered. In July, the platform's capabilities to launch and recover LCAC, and transfer expeditionary vehicles to and from other vessels were demonstrated during the Rim of the Pacific exercises held near San Diego.

MLP 2 is owned by the U.S. Navy's Military Sealift Command (MSC) and will be operated by a 34-person civilian-mariner crew and assigned to one of the two geographically responsible, Maritime Prepositioning Ships Squadrons.