a
Naval Forces News - Israel
INS Tanin, 1st Dolphin Batch II class SSK, joins Israeli Navy
The Israeli Navy announced that INS Tanin, the first Dolphin Batch II class SSK, has joined its fleet. INS Tanin is also the fourth of six Dolphin-class submarines that the Israeli navy has on order with German shipyard ThyssenKrupp Marine Systems (TKMS / HDW). Delivery of the sixth and final SSK in scheduled for 2019.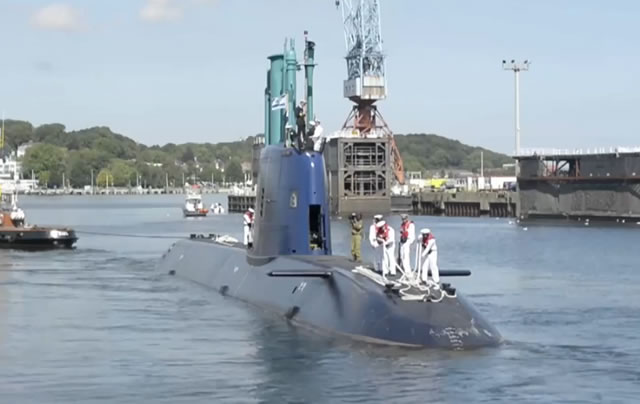 The new INS Tanin submarine, built in Germany, will equip the IDF with unprecedented capabilities at sea. (Picture: IDF)
The new INS Tanin submarine, built in Germany, will equip the IDF with unprecedented capabilities at sea. Israel's powerful INS Tanin (Crocodile) submarine is on its way from Germany to the port of Haifa. The INS Tanin, one of the world's most advanced submarines, will soon join the navy's elite Shayetet 7 fleet on Israeli shores. The vessel is expected to upgrade Israel's naval capabilities, allowing IDF forces to confront a broader range of challenges at sea.

In recent months, the vessel's crew has been training in the Baltic Sea and the North Sea under challenging situations and conditions. According to Israel Navy Commander Major General Ram Rothberg, the submarine will allow Israeli naval forces to "travel further and deeper [underwater] for longer periods of time" and to achieve a "level of strength we have not seen until today."

In May 2012, the IDF launched the INS Tanin at an official ceremony in Germany, where the submarine was built. The INS Tanin is part of Israel's Dolphin-Class submarines, which are considered among the most powerful and sophisticated on and below the surface of the Earth. They are silent, sophisticated and tremendously powerful.

The Dolphin-class submarine is a versatile tool that can adjust itself to a variety of tasks. The IDF's Chief of Staff, Lt. Gen. Benny Gantz once described these submarines as "a long strategic arm – sophisticated, very quiet, and extremely important in our struggle" against enemy forces.

The INS Tanin's personnel regularly performs intensive operational activity near and far, operating away from the public spotlight. Now, the submarine flotilla will be able to tackle new challenges and keep the Israeli home front even safer.