a
EURONAVAL 2014 Show Daily - DCNS SMX OCEAN Submarine
Video Preview: DCNS SMX OCEAN heavy diesel electric submarine (SSK)
Xavier Mesnet, Marketing Director (Export of Submarines) at DCNS, gives Navy Recognition an exclusive preview of the SMX OCEAN that will be unveiled at Euronaval 2014. The interview was conducted at the confidential site of Bagneux where DCNS develops its combat management systems and conduct some research and development on future projects.
Xavier Mesnet presents the SMX OCEAN heavy SSK to be unveiled at Euronaval 2014
The focus of DCNS engineers in developing this submarine was put on endurance and high sustained speed. The 4,700 tons SSK was designed for an endurance of 14,000 nautical miles (3 months autonomy) and a continuous transit speed of 14 knots for 1 week.

To achieve such performance, the propulsion system is based on DCNS' revolutionary second generation fuel cell. It consists in the combination of a diesel reformer (therefore only diesel is used for both the diesel engine and the AIP) with air fuel cell technology.

More details on this second generation fuel cell (which has already been tested by DCNS) as well as on the SMX OCEAN will be disclosed during Euronaval 2014.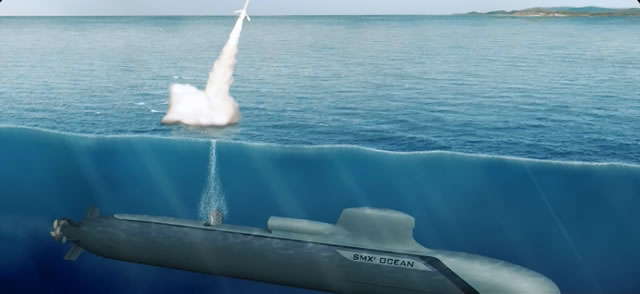 The SMX OCEAN concept is fitted with an impressive load of up to 34 weapons for action in the four domains: anti-air, anti-surface, anti-submarine & action against land targets.

The SMX OCEAN SSK is DCNS answer to the recent emmergence of several heavy SSK projects such as the Type 216 by TKMS (~4,000 tons ), the KSS III project from South Korea (~3,000 tons ) or the Soryu class of Japan (~4,000 tons).

DCNS already has the know how to design heavy submarines (few shipyards in the world are capable of designing and producing SSBNs and SSNs) and DCNS insists SMX OCEAN is more than a concept: Construction could start fairly rapidly since it is based on the already under production Barracuda SSN.