a
Naval Defense Industry News - Netherlands
Royal Netherlands Navy purchases Thales's new NS100 surveillance radar for Rotterdam class LPD
The Netherlands Defence Materiel Organisation (DMO) and Thales have signed a contract for the delivery of a NS100 dual-axis multi-beam surveillance radar. The system will be installed on HNLMS Rotterdam, to replace its 30-year old DA08 radar system. The NS100 will be installed in the second semester of 2017, in line with the ship's maintenance schedule.

NS100's dual-axis, multibeam technology enables optimal situational awareness
Picture: Thales
The Royal Netherlands Navy selected Thales's NS100 system because of its performance and its proven AESA technology. This technology enables a 3D cue to be given to both Goalkeeper Close-In Weapon Systems on the ship.

Furthermore, the selection for this radar has numerous logistic advantages since the Royal Netherlands Navy already operates the latest generation of Thales AESA radars on the majority of its vessels.

The NS100 radar incorporates a Thales IFF mode 5/S subsystem, making the Royal Netherlands Navy one of the first navies in the world to deploy this modern standard.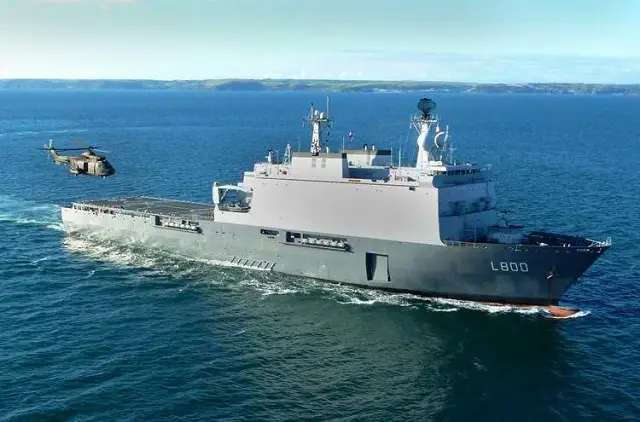 HNLMS Rotterdam
About NS100
The NS100 is the newest member of Thales's S-band AESA radar family. It is the first radar world-wide using dual-axis multibeam technology, which significantly enhances situational awareness in a littoral environment. NS100 is a multi-sensor integrated platform: in addition to the S-band radar, the system is designed to include the Scout Mk3 FMCW radar, the IFF mode 5/S interrogator and transponder, an IR camera, AIS and ADS-B. Positioning all sensors at the best topside position optimizes the overall field of view.

The highly modular and scalable NS100 enables a tailor-made sensor for customer specific requirements and operational profiles. Radar performance is increased by adding RX and TX Building Blocks, answering to the need set by a wide range of naval ships and missions. The flexible radar architecture enables through-life introduction of new capabilities.

About Rotterdam class
The Royal Netherlands Navy has 2 vessels of this class: HNLMS Rotterdam and HNLMS Johan de Witt. The most important role for those ships is supporting amphibious operations. The amphibious transport ships of the Royal Netherlands Navy are also known as Landing Platform Docks (LPD). The ships are equipped with a large helicopter deck for helicopter operations and a dock for landing craft.