a
Naval Defense Industry News - France
French Procurement Agency DGA orders 20 Transport Boat for Liaison Duties from SOCARENAM
The French Procurement Agency (DGA) announced it awarded a contract to french company SOCARENAM on December 10th for 20 transport boats (VLI - Vedettes de Liaison). These boats will primarily conduct liaison duties: Transportation of Navy personnel inside naval bases and harbors.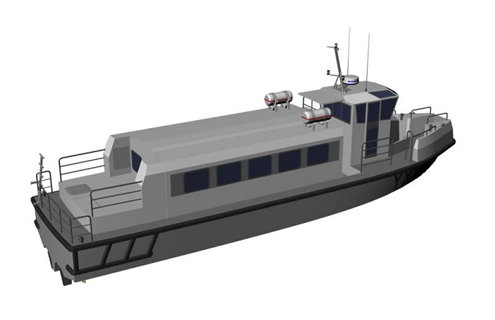 The future VLI transport boat.
Picture: DGA
The VLI boats will have a length of 16 meters, a width of 4.50 meters and a capacity for 36 passengers with their cargo and equipment. The VLI can reach speeds of 15 knots with a range of 300 nautical miles.
The VLI transport boat was designed by naval architect firm Pierre Delion and will be built by SOCARENAM in northern France. SOCARENAM built the CNIM designed
EDAR/L-CAT landing catamaran
sea to shore connectors of the French Navy as well as designed and built the new
"Ready Duty Ship" patrol vessels
of the Belgian Navy.
The delivery of the first ten VLI transport boats is planned for 2016.