a
Naval Forces News - Russia
Vladimir Monomakh Third Borey Class SSBN Joined Russian Navy
Russia's third Borey-class nuclear-powered ballistic missile submarine, the Vladimir Monomakh, was officially inducted in the Russian Navy on Friday, the Sevmash shipyard reported. "The ceremony of raising the Russian Navy colors on the Vladimir Monomakh submarine on Friday, December 19, at Sevmash," the shipyard's press-service said in a statement.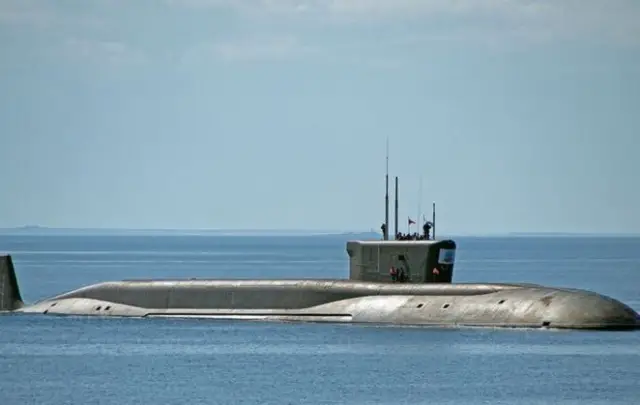 Russia's third Borey class ballistic missile nuclear submarine, the Vladimir Monomakh
According to the statement, the submarine will soon leave a naval base in Severodvinsk in northern Russia to join the 25th Submarine Division of the Pacific Fleet based in Russia's Far East.

The Borey class, the Russian Navy's first post-Soviet ballistic missile submarine design, will form the backbone of the fleet's strategic nuclear deterrent force after older boats are retired by 2018. Russia expects eight of the boats to enter service by 2020.

The missile — developed specifically for the new Borey-class — has suffered a string of failures in past tests.

Last September during state trials of the Aleksander Nevsky nuclear-powered submarine a Bulava rocket experienced a malfunction. Following this incident Russian Defense Minister Sergei Shoigu ordered to hold five additional launches of Bulava missiles.

Despite the test failures, the Russian military insisted there is no alternative to the Bulava as the main armament for Russia's new Borey-class strategic missile submarines.