a
Naval Forces News - China
Chinese Navy (PLAN) Continues to Qualify J-15 Pilots on board Liaoning Aircraft Carrier
According to the Global Times, an English-language Chinese newspaper under the People's Daily, citing People's Liberation Army Navy (PLAN or Chinese Navy) sources, a second series of at sea carrier qualifications for J-15 pilots was conducted in November 2014.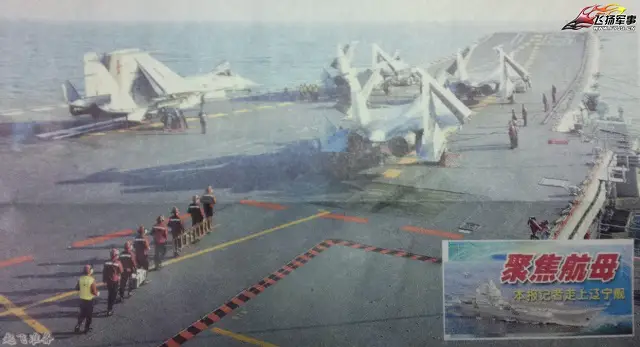 Recent picture showing four J-15 Flying Shark fighter jets parked on board Chinese Navy Aircraft Carrier Liaoning (CV16). These are serial production aircraft painted in PLAN colors (as opposed to the yellow ones used for the early tests).
Eight new fighter pilots were qualified for carrier operations with their J-15 "Flying Shark" fighters during this new campaign. The first landing of a J-15 on board the Liaoning took place in November 2012. A carrier-borne aviation force has been formally established as part of the PLAN, military sources said in May 2013.

The Shenyang J-15 is a carrier-based fighter aircraft developped by the Shenyang Aircraft Corporation and the 601 Institute for the PLAN's (Chinese Navy) aircraft carrier. While the J-15 is based on Russian-designed Sukhoi Su-33, it is reported to share a large portions of electronics and avionics with the J-11.
File picture: A J-15 Flying Shark fighter jet takes off from Chinese Navy Aircraft Carrier Liaoning (CV16).
Currently, China operates one aircraft carrier, the Liaoning, which was refitted based on an unfinished Russian-made carrier and delivered to the PLAN on Sept. 25, 2012. The carrier's original design allows it to carry about 24 fixed-wing aircraft like the J-15.