a
Naval Defense Industry News - USA
U.S. Navy Poised to Launch Lockheed Martin-Built MUOS-3 Secure Communications Satellite

The U.S. Navy and Lockheed Martin are ready to launch the third Mobile User Objective System (MUOS) satellite, MUOS-3, from Cape Canaveral, Florida on Tuesday, Jan. 20 aboard a United Launch Alliance Atlas V rocket. The launch window is between 7:43 p.m. and 8:27 p.m. EST.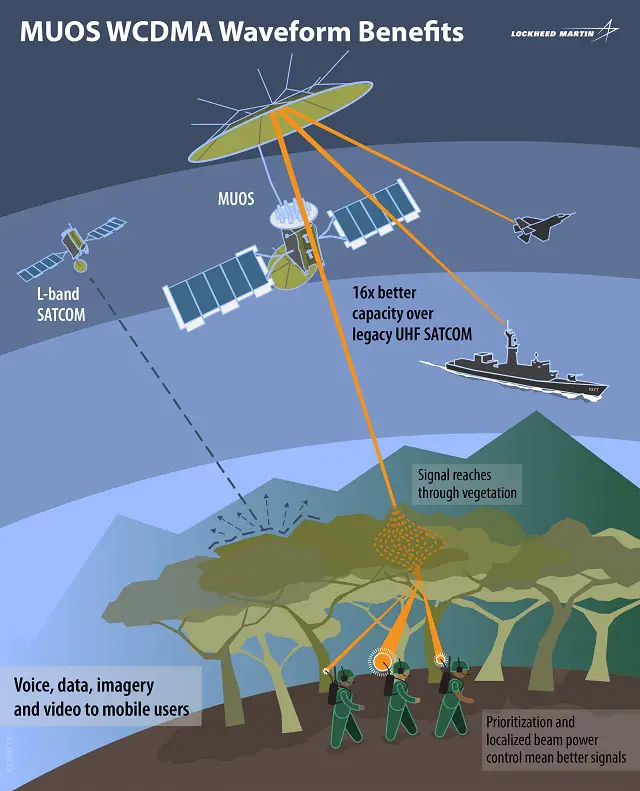 MUOS operates like a smart phone network in the sky, vastly improving current secure mobile satellite communications for warfighters on the move. Unlike previous systems, MUOS provides users an on-demand, beyond-line-of-sight capability to transmit and receive high-quality, prioritized voice and mission data, on a high-speed Internet Protocol-based system.

"The launch of MUOS-3, and the near-term certification of our fourth and final Radio Access Facility, brings us to the brink of the global coverage we anticipate for MUOS communications. This government and contractor team knows how important this capability is for our protectors in harm's way," said Iris Bombelyn, vice president of Narrowband Communications at Lockheed Martin. "To deliver a satellite like MUOS is no small task and the team worked around the clock and through every holiday. We are honored to do so, because we know that our warfighters never stop in their own mission to keep us safe."

Replacing the legacy Ultra High Frequency (UHF) Follow-On system, MUOS satellites have two payloads to ensure access to UHF narrowband communications as well as new capabilities. MUOS' advanced Wideband Code Division Multiple Access (WCDMA) payload incorporates commercial technology and a new waveform to provide users priority-based capacity. Once fully operational, MUOS will provide 16 times the capacity of the legacy system. More than 50,000 terminals that are in the field today can be retro-fitted with WCDMA.

The MUOS-3 satellite was built at Lockheed Martin's Sunnyvale, California manufacturing facility. The satellite was shipped to Cape Canaveral Air Force Station on Nov. 5, and encapsulated into its launch fairing on Dec. 18.