a
World Naval Forces News - Australia
Royal Australian Navy commissions Bay Class Landing Ship HMAS Choules
The Royal Australian Navy now has enhanced amphibious warfare capability with the commissioning in Fremantle on December 13 2011 of Australia's newest warship, the Bay Class Landing Ship HMAS Choules.

Choules, a former Royal Fleet Auxiliary which served the Royal Navy under the name Largs Bay, was renamed after Chief Petty Officer Claude Choules, Australia's last surviving World War I veteran. Mr. Choules passed away in his home city of Perth in May 2011, aged 110.

HMAS Choules is now at the forefront of a new generation of amphibious capability for Navy in the period leading up to the arrival of the Landing Helicopter Dock ships in 2014.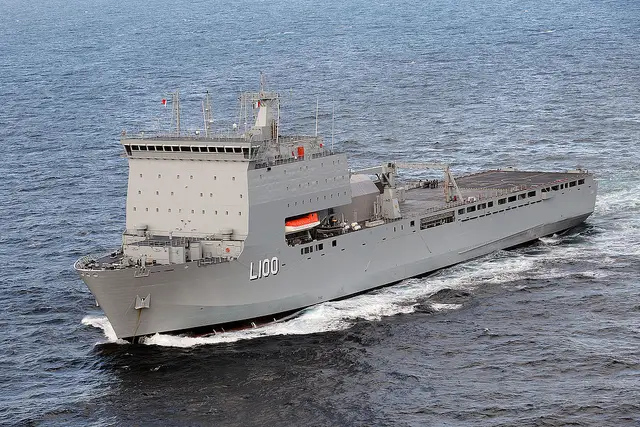 Ex Royal Fleet Auxiliary LPD Largs Bay HMAS Choules
(picture: Royal Australian Navy)
The ship has been proven as a robust amphibious capability, having provided humanitarian relief as a part of the international response to the Haiti earthquake last year.

The 176 metre long vessel has a crew of 158 officers and sailors, and can accommodate two large helicopters, 150 light trucks and 350 troops. She also carries two mexeflotes, which are powerful landing raft designed to move goods and vehicles between the ship and the shore.

Following her commissioning in Western Australia, HMAS Choules will transit to the east coast to her home port at Fleet Base East in Sydney on 21 December.