a
Naval Forces News - India
Indian Navy to Upgrade its Kamov Ka-28 Anti-Submarine Warfare Helicopters
According to Indian English-language daily newspaper The New Indian Express, the Indian Navy will order the mid-life upgrade (MLU) of six Russian-made Kamov Ka-28 Helix-A anti-submarine warfare helicopters in addition to the complete overhaul of four helicopters of the same type. According to the Indian Defence Acquisition Council who approved the modernisation "Six helicopters will get new sensor, while the focus with the other four is on overhauling the engines".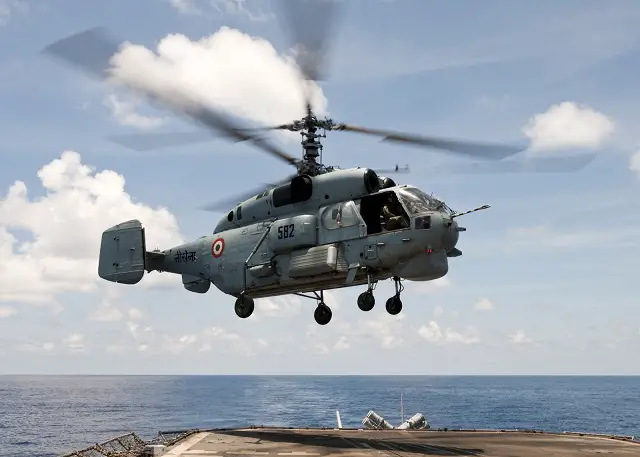 Indian Navy Ka-28 ASW Helicopter. U.S. Navy photo

The Kamov Ka-28 Helix-A is the export version of Kamov Ka-27PL. It entered service with the Indian Navy in the nineties eighties but only a few are still in flying condition today

The Kamov Ka-27 are a range of military helicopter developed for the Soviet Navy. The helicopter was developed for ferrying and anti-submarine warfare. Like other Kamov military helicopters it has coaxial rotors, removing the need for a tail rotor.