a
World Naval Forces News - Russia
Russian task force on Dec 23 passed Gibraltar Strait and entered the Mediterranean Sea.
Northern Fleet (NF) aircraft-carrying cruiser Admiral Kuznetsov on Dec 23 passed Gibraltar Strait and entered the Mediterranean Sea. Other ships of the carrier strike group passed the strait few hours earlier.

In accordance with further plans, the Russian Navy's task force consisting of NF large ASW ship Admiral Chabanenko, Baltic Fleet (BF) frigate Yaroslav Mudry, and NF tanker Sergei Osipov paid a formal visit to Spanish port of Ceuta.

Aircraft carrier Admiral Kuznetsov and other supply vessels in the nearest time will head for anchorage site in western part of the Mediterranean Sea in order to replenish the carrier's supplies.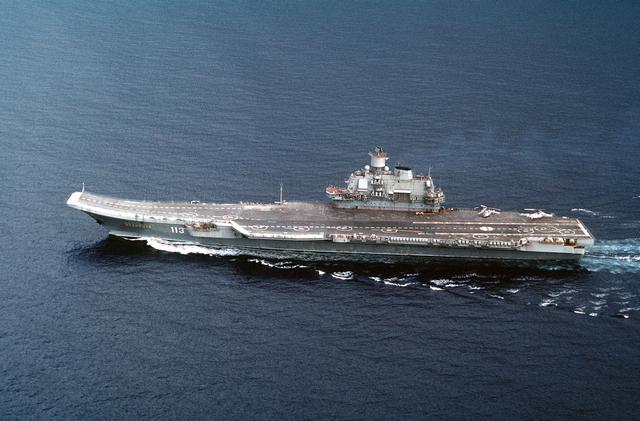 Russian Navy's sole aircraft carrier the Admiral Kuznetsov
(picture: US DoD)
Black Sea Fleet (BSF) frigate Ladny joined the carrier group on Friday, Dec 23.

The long-range cruise started on Dec 6 when Admiral Kuznetsov, large ASW ship Admiral Chabanenko, and auxiliary vessels departed from Northern Fleet's main base. As for now, the carrier group has covered over 4,000 nautical miles.

The interfleet force was shaped on Dec 12 when BF frigate Yaroslav Mudry joined the carrier group in the Moray Firth.

Heading through the Atlantic, crews of the carrier group were improving naval skills and performed dozens of drills within the interfleet grouping. Air wing carried out training flights; deck-based fighters and helicopters practiced takeoffs and landings on board the aircraft carrier and other warships.

In the Mediterranean Sea, Russian naval mariners will proceed with drills within the interfleet task force. Training flights of deck-based aviation will be continued as well.