a
World Naval Forces News - USA
US aircraft carrier (probably USS John C. Stennis) 'spotted' in Iran wargames zone
A US aircraft carrier entered a zone near the Strait of Hormuz being used by the Iranian navy for wargames, an Iranian official said Thursday amid rising tensions over the key oil-transit channel. "A US aircraft carrier was spotted inside the manoeuvre zone... by a navy reconnaissance aircraft," Commodore Mahmoud Mousavi, the spokesman for the Iranian exercises, told the official IRNA news agency.

The Iranian aircraft took video and photos of the US vessel, he added.

The US aircraft carrier was believed to the USS John C. Stennis, one of the US navy's biggest warships.

US officials announced Wednesday that the ship and its accompanying battle group moved through the Strait of Hormuz, a narrow stretch at the entrance to the Gulf that is the world's most important choke point for oil shipments.

After warnings from the Iranian government and navy this week that Iran could close the strait if threatened by further Western sanctions, the US Defence Department warned Wednesday that such actions "will not be tolerated."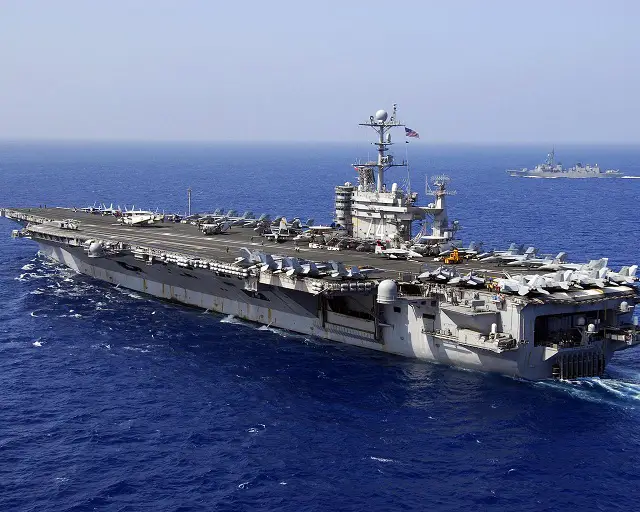 USS John C. Stennis CVN 74
(picture: US Navy)
The United States maintains a navy presence in the Gulf in large part to ensure oil traffic there is unhindered.

Iran, which is already subject to several rounds of sanctions over its nuclear programme, has repeatedly said it could target the Strait of Hormuz if attacked or its economy is strangled.

Such a move could cause havoc in the world oil market, disrupting the fragile global economy.

The Islamic republic is halfway through 10 days of navy exercises in international waters to the east of the strait that have reportedly included the laying of mines and the use of aerial drones.

So far, Iran and the United States have limited themselves to rhetoric and naval manoeuvres. But analysts and the oil market are watching the situation carefully, fearing a spark that could ignite open confrontation between the longtime foes.

The United States had proposed a military hotline between Tehran and Washington to defuse any "miscalculations" that could occur as their navies brush against each other. But Iran in September rejected that offer.
From: AFP