a
Focus - Turkish Navy Future LHD/Aircraft Carrier
Turkish Navy Future LHD Model Showcased with F-35B STOVL Aircraft at IDEF 2015
At IDEF 2015, the International Defence Industry Fair currently held in Istanbul, Turkey, local shipyard "Sedef Shipbuilding" is showcasing a model of the future Turkish Navy Landing Helicopter Dock (LHD) with the short take-off and vertical landing (STOVL) variant of the Lockheed Martin F-35 Lightning II jets on board. The same model is showcased on the Turkish Navy booth.
Turkish Navy future LHD model on display at Sedef Shipyard booth during IDEF 2015
Turkey's Undersecretariat for Defense Industries (SSM) announced in December 2013 that it selected Sedef shipyard as winner of its LPD tender and that final contract negotiations with this shipyard could begin. Sedef shipyard in Turkey offers a design based on Juan Carlos LHD under the collaboration with Spain's Navantia.

Landing Platform Dock Project
According to SSM, the Landing Platform Dock Project (LPD)'s main purpose is the acqusition of one Landing Platform Dock in order to meet the operational requirements of Turkish Naval Forces. The scope of the procurement is for:
- 1 LPD and
- Four Landing Craft Mechanics (LCM)
- Twenty seven Amphibious Assault Vehicles (AAV),
- Two Landing Craft Personnel Vehicles (LCVP),
- One Commander Boat
- One RHIB (Rubber Hull Inflated Boat) will be acquired

One of the requirement was for a Privately Owned Turkish Shipyard to be main contractor, also responsible for design, construction, integration and tests and final performance.

The other proposals which were rejected were:
RMK Marine Shipyard offering its own indigenous design and Desan shipyard offering a design based on South Korea's Dokdo class. At the early stage of the tender a Chinese company submitted its design proposal but then backed away.
Turkish Navy future LHD model on display at Sedef Shipyard booth during IDEF 2015
Turkish Navy LHD Specifications

At IDEF, Sedef shipyard gave the latest LHD specifications to Navy Recognition:
Length overall: 231 meters
Maximum beam: 32 meters
Draught: 6.8 meters
Height: 58 meters
Maximum speed: 21 knots
Range: 9,000 miles @ economical speed
Electric propulsion with 2x 11 MW Siemens eSIPOD; 5x MAN 16V32/40 Diesel GenSets and 2x bow thrusters
Complete hospital and sick bay

Combat systems:
Genesis Advent CMS with amphibious and joint operations capability
Link 11/16/22/JRE/VMF
1x SMART-S Mk2 3D Search Radar
2x LPI radars
2x Navigation radars
1x Air traffic and control radar
1x PAR radar
4x 25mm Aselsan STOP
3x 12.7mm Aselsan STAMP
2x Raytheon Phalanx CIWS
Aselsan R-ESM
Aselsan jammers
Chaff/IR Decoy launching system
Aseslan TORK torpedo countermeasure system
IRST
HF/VHF/UHF and satellite communication systems

Amphibious capacity and force projection:
Garage for heavy loads: 1410 m² (MBTs, AAVs, TEU containers...)
Dock: 1165 m² (4x LCMs or 2x LCACs)
Light cargo garage: 1880 m² (AAVs, ZPTs, TEU containers...)
Aviation hangar: 900 m² (S-70B, AW-149, CH-47 etc.)
Flight Deck: 5440 m² (6 landing spots)

Turkish Navy future LHD model on display during IDEF 2015 featuring F-35B jets on the deck
The LPD is a single hull vessel made of steel whose platform is designed by Navantia and combat system integrated by ASELSAN and HAVELSAN. The design is based on a combination of military and commercial standards and specifications. The structure, equipment and materials comply with Turk Loydu Classification rules and civil standards, whist her combat system, ammunition handling and stowage systems, systems of replenishment at sea, flight deck and the damage control system follow military standards
Turkish Navy LHD Mission Profiles and Capabilities
The ship is to be designed for four mission profiles:
» Amphibious ops: Capable of transporting a marine infantry force to carry out landing and support operations.
» Force Projection: Transporting forces to a theatre of operations.
» Aircraft Carrier: A platform for carrier-based naval aircrafts, acting as a flight deck for strategic projection airborne vectors (Navy's Air Wing)
» Humanitarian air ops: MOOTW (Military Operations Other Than War), humanitarian assistance, evacuation of crisis area, hospital ship in areas affected by natural disaster, etc.
We
reported in January this year
that Turkey took the decision to built the future LHD (Turkish designation: LPD Project) as an aircraft carrier capable to deploy the F-35B, the STOVL variant of the Lockheed Martin built Joint Strike Fighter.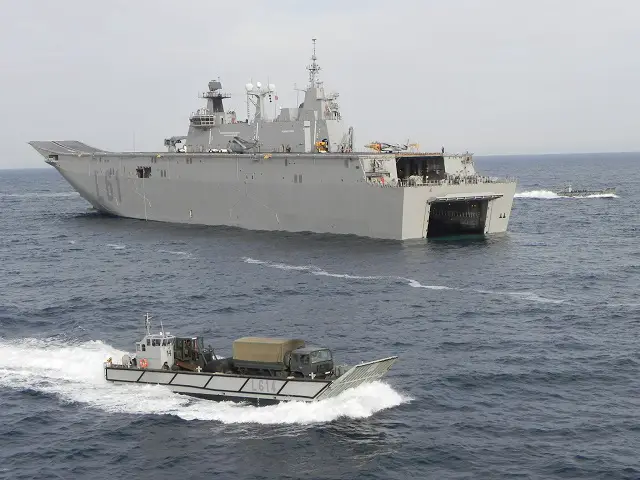 Juan Carlos LHD can carry and deploy 4 LCMs thanks to its well deck
Picture: Spanish Navy
Juan Carlos class LHD
The multi-purpose Strategic Projection Ship "Juan Carlos I" is the largest naval unit ever built in Spain. Her NATO denomination is LHD (Landing Helicopter Dock). In June 2007, Australia announced it would purchase and build two ships of the same design to become the Canberra-class landing helicopter docks.

The crew consists of 261 people: 30 officers, 49 NCOs, 59 leading seamen and 123 ratings.