a
World Naval Forces News - France
STX France and DCNS deliver Dixmude LHD to French Navy three months ahead of schedule
BPC Dixmude, the third Mistral-class force projection and command vessel for the French Navy, has been delivered to the French defence procurement agency (DGA) three months ahead of the initial contract schedule. The DGA took formal delivery of the ship on 3 January 2012. This success is the result of outstanding cooperation between industry partners DCNS and STX France. The design, construction and testing of the vessel was conducted in close partnership with DGA and French Navy teams.

Gérard Longuet, the French Minister for Defence and Veteran Affairs, praised this achievement after touring BPC Dixmude in Toulon on Saturday 14 January 2012.

The DGA ordered BPC Dixmude in April 2009 under the French government's economic stimulus package. It was scheduled for delivery to the DGA at the end of the first quarter of 2012 for entry into active service with the French Navy later in the year. However, the DGA was able to take formal delivery of the vessel on 3 January 2012, three months ahead of the contract deadline.

BPC Dixmude, France's third BPC-type force projection and command vessel, benefited from lessons learned during the construction of the first two Mistral-class ships and efficient cooperation between shipbuilder and outfitter STX France and DCNS, which has responsibility for the combat system and logistic support.

STX France coordinated industrial operations and built the platform and propulsion system as well as installing shipboard equipment. After successful sea trials, BPC Dixmude returned to Toulon in July 2011. DCNS then integrated and tested the combat system, including its communication, navigation and combat management capabilities.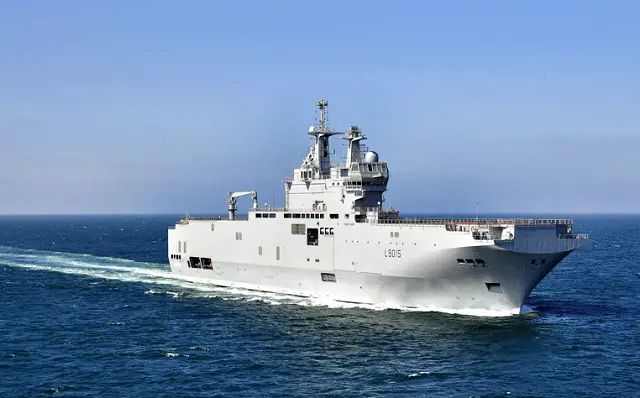 French Navy Dixmude LHD, third of Mistral class
(picture: DCNS)
Between April 2009, when the first steel was cut, and July 2011 when the platform was delivered, STX France consistently outpaced the production schedule. DCNS was also able to validate the combat system with just three sea trials, instead of the six scheduled under the contract.

The commitment and availability of the participating DGA and Navy teams and ready naval and air support ensured that the trials went very smoothly indeed.

The fact that BPC Dixmude's Navy crew was able to work on board and familiarise itself with the new vessel from June 2011 contributed further to the success of the trials.

In 2012, BPC Dixmude will be used as a training ship for the French Navy's Jeanne d'Arc mission. In this capacity, it will host a new cohort of officer cadets for instruction and exercises at sea as well as a detachment of French Army personnel.

The first two Mistral-class vessels, BPC Mistral and BPC Tonnerre, were co-designed by DCNS and STX France and delivered to the French Navy in 2006 and 2007 respectively.