a
Focus - Jean Bart Frigate Overhaul by DCNS Services
DCNS Conducting the Overhaul of the Jean Bart Frigate with the French Navy
Navy Recognition recently had the opportunity to witness the overhaul operations (also reffered as refit) of French Navy Cassard class frigate Jean Bart. This operation takes place in a dry dock located inside the French naval base of Toulon in Southern France.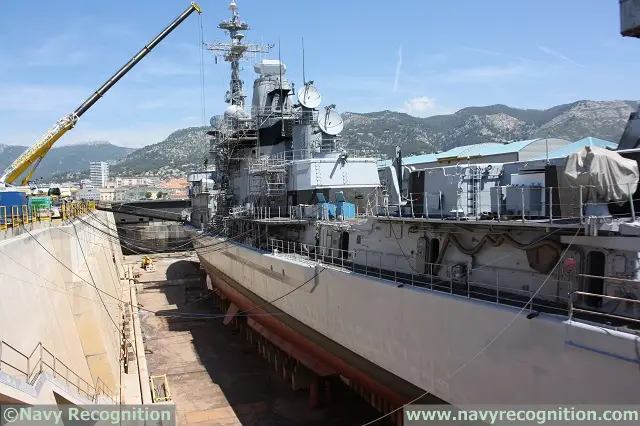 Jean Bart Frigate in the dry dock at the Toulon naval base
Conducted by the Services division of DCNS for (and in cooperation with) the French Navy, such overhaul operations are intended to conduct scheduled visits to the vessel's propulsion system and to upgrade the weapon system. Ultimately such operations allow to recover the optimal performance of the vessel or to upgrade their capabiliies.

Developed with economic performance and operational efficiency in mind, DCNS services are based on proven expertise, with readily available teams all over the world offering the full range of naval support services. The Group also makes the most of its talent for innovation and its experience of successful operations to optimise service performance, with respect to both quality and cost.
Video: Jean Bart AAW Frigate Overhaul by DCNS Services and French Navy
The Cassard class guided-missile destroyers (typed by French Navy as frégates antiaériennes type F 70 AA or anti-aircraft frigates) are intended to participate in anti-aircraft operations, escort of capital ships (such as aircraft carriers or large amphibious vessels) as well as air and sea control. Both vessels of the class are homeported in Toulon naval base and are part of the Force d'Action Navale (Naval Action Force).
They will be replaced by an AAW variant of the FREMM Frigate called
FREDA
in the 2020ies.
Link to Cassard class frigate technical datasheet