a
Naval Forces News - Japan
Japan's JMSDF May Patrol South China Sea to Limit China's Claims and Island Expansions
Admiral Katsutoshi Kawano, Chief of Staff, Joint Staff of the Japanese military (and former Chief of Navy), declared that China's unwavering stance on various territorial disputes and the number of artificial islands it is constructing have led Japan to consider patrolling the South China Sea and conducting surveillance there. Japan's top military commander is on an official visit to Washington.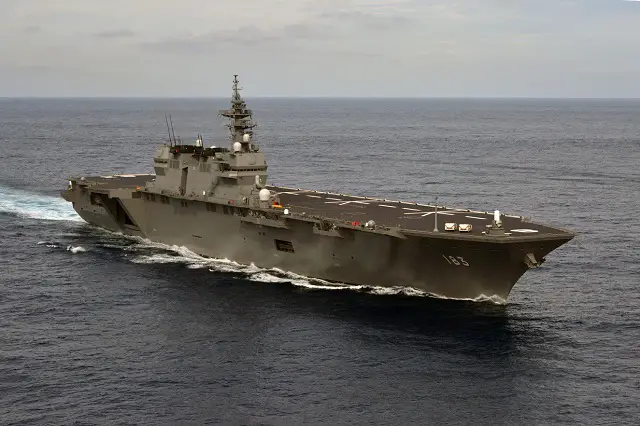 The Izumo Helicopter Destroyer could be used to patrol the South China Sea to conduct both surface and under sea surveillance. Picture: JMSDF
China claims most of the South China Sea and has territorial rivalries there with several south-east Asian states. It also has competing claims with Japan in the East China Sea, further to the north.

Japan's rising concerns have resulted in recent discussions as to whether it should patrol the South China Sea, and implement anti-submarine activities. Japan Prime Minister Shinzo Abe just passed a bill via parliament's lower house that could let Japanese troops fight abroad, something that hasn't happened since World War II.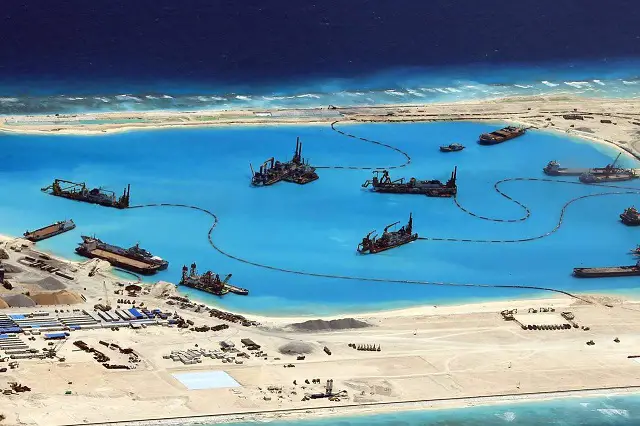 A picture released by the Philippines military shows construction by China at a reef in the disputed Spratley Islands in the South China Sea in February.
"My sense is that this trend will continue into the future, where China will go beyond the island chain in the Pacific," said Admiral Katsutoshi Kawano, Japan's top military commander. "So if anything, I would believe that the situation will worsen."

China has dramatically expanded its construction of artificial islands in the South China Sea this year, according to South East Asia and American officials.

A Pentagon report released in May this year found that China has been busy constructing a network of islands as well as making a number of infrastructure improvements on several of them. For example, at five sites, China is using heavy equipment to build facilities that U.S. officials suspect could be used for expanded outposts that could include harbors, house communications and surveillance systems as well as logistics-support hubs. Pentagon officials are aware of at least one 3,000-yard airfield that analysts say is halfway paved.