a
Naval Forces News - Portugal, France
Portugal Gave Up on Procuring Former French Navy Foudre class LPD Siroco

Portugal abandoned its plans to purchase the former French Navy Foudre class LPD Siroco. The Portuguese Navy found the Foudre class LPD would not be able to accommodate the large EH101 Merlin helicopters.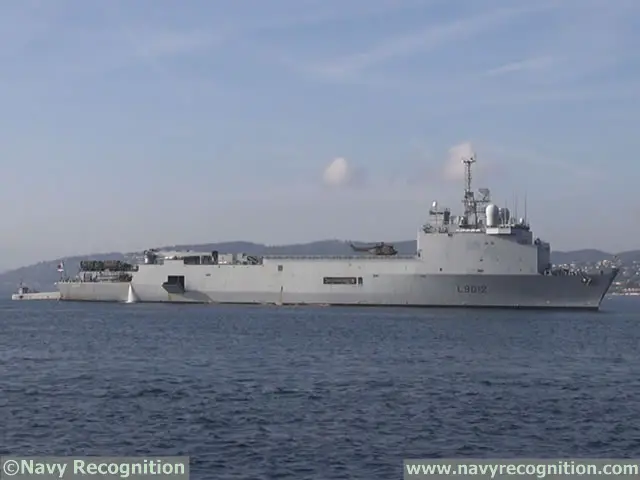 The Portuguese Navy found the Foudre class LPD would not be able to accomodate the large EH101 Merlin helicopters. The Siroco is pictured here with a Puma type helicopter on deck and landing craft coming out of the well deck. October 2014 picture.
Three limitations were found by the Portuguese Navy:
The first relates to the maximum takeoff weight of a fully laden EH101 (14.6 tons), which is higher than what the structure of the French LPD deck can handle (11.5 tons).

The second limitation relates to the ship's structure. The deck and platform of the LPD are not reinforced enough to support the Merlin in case of accident or forced landing - If this type of incident happened, the Siroco could sustain "significant damages".

The final limitation involves the aviation hangar: its size "does not meet the minimum necessary requirements" for some of the EH101 maintenance. This would result in the impossibility of achieving some type of maintenance requiring lifting heavy parts above the helicopter.

The Siroco is the second Foudre class LPD. Head of class Foudre was sold to Chile in late 2011. The Siroco was decommissioned from French Navy service in July 2015. Launched in 1996, the vessel is still relatively recent and modern. Following Porugal, Brazil would also be interested and a delegation from the Brazilian Navy conducted an evaluation of the ship in December 2014.

Displacing 12,000 tonnes, Foudre class LPD can accommodate 4 helicopters (Puma type as used by French forces), 4 landing craft and 450 soldiers (900 for a short cruise) in addition to her crew.