a
DSEI 2015 Naval Daily News - DSEI Press Release
DSEI 2015: View, Explore and Experience More Naval Features Than Ever Before
DSEI is recognised around the world as a milestone opportunity to evaluate the full spectrum of maritime defence and security products, technologies and equipment, from the latest warships and craft design to advanced new systems for surveillance, communication, weapons, sensors and navigation.
DSEI 2013 naval demonstration
This year an impressive international flotilla complement an enlarged US Maritime Pavilion. Meanwhile, the Zone's dedicated seminar theatre focused on topics of current importance to the maritime community included; maritime security, power projection including amphibious and carrier group forces capabilities, future naval ship design, the future role of OPVs and the latest developments in mine hunting.

2015 will include an expanded marina and in depth scenarios, encompassing current and future threats to maritime security and naval warfare. This facility offers exhibitors a unique theatre to showcase their related products, technologies and services; providing an environment in which their products were designed to operate, as well as an audience of representatives from potential export markets.

Key exhibitors in the Naval Zone at DSEI 2015 include MST, Startpoint (UK Maritime Mission Systems), Griffon, Vitavox, Analox, Roodberg Trailer, Royal Navy and Cammell Laird. Exhibitors on display outside include Teledyne Marine Systems, C-Truk, James Fisher Defence, ThyssenKrupp, Navantia, Lurssen, Wartsila and Drumgrange, and many more.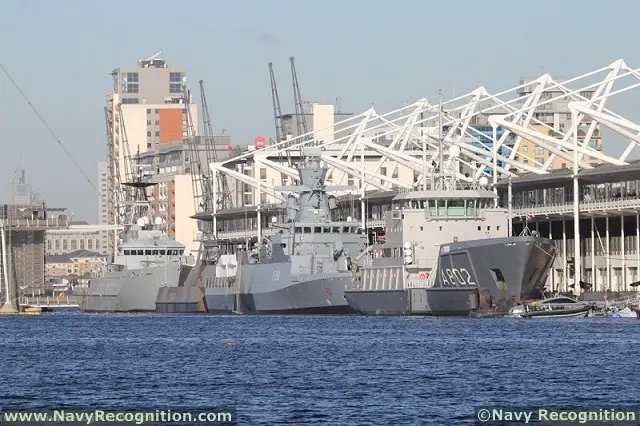 DSEI's visiting warships at the Greenwich Docks complex
(DSEI 2011 Picture by Navy Recognition)
DSEI worked closely with various nations in providing a variety of warships and research
vessels to be available to visit at the show
. On specially conducted tours key industry representatives were able to see the latest developments in naval ship design and equipment in its natural environment, demonstrated by experienced ship's users and maintainers.
2015 is set to welcome more visiting warships than ever before at DSEI, showcasing a greater range of capabilities. The dock provides a valuable platform for demonstrations of new systems and equipment from the UK's innovative maritime sector.
This year it is currently planned for three Royal Navy vessels and at least six other vessels to be attending the exhibition.
Royal Navy Type 23 Frigate
Royal Navy River Class Offshore Patrol Vessel
Royal Navy Hunt Class MCMV
German Navy K130 Braunschweig class Corvette FGS Ludwigshafen
Belgian Navy – 52 metre Coastal Patrol Vessel BNS Castor
Indian Navy Frigate
MV. Partisan – Training vessel
Canadian Frigate
DSEI's venue in London's docklands provides an ideal setting for demonstrations, including high speed craft for tackling piracy and terrorist threats, unmanned underwater vehicles and other underwater devices.

DSEI offers an extended programme of live waterborne demonstrations
(DSEI 2011 Picture by Navy Recognition)
The Waterborne Demonstrations are held over all four days of DSEI and take place in the Royal Victoria Dock. They are best viewed from the grandstand on the Dock Edge. The demonstrations themselves consist of individual capability demonstrations from a number of world leading maritime and UAV companies. There will be at least 9 small vessels and RIBs who will participate in two daily waterborne demonstrations at 1200 and 1530.

The 9 small vessels include:

Atlas with ARCIMS remote minesweeping vessel
Delta Power RIB - 11m Phantom Fast Patrol Boat
MST showcasing from Belgian OPV
Holyhead ORC demonstrated by Royal Marines
Chemring chaff launcher
Survitec RIB
Safehaven - The Barracuda Patrol Vessel
Supacat the new OXE Diesel 200hp diesel outboard motor fitted to a 9m Rigid Inflatable Boat
Norsafe - 8,5 meter Magnum Project boat
Zodiac SRA-750 (Sea Rib™ Aluminium 750)
Datron World Communications, Inc – SkyRanger (Airborne)

The Naval Theatre will be located on the show floor in the South Hall to enhance the networking opportunities available to those speaking and attending the program.

DSEI 2015 naval focused seminar programme remains the key meeting point for knowledge sharing and networking directly on the show floor.

Once you have registered to attend DSEI, you will have access to the full programme details which will be published from 10 July.