a
Naval Defense Industry News - USA
US Navy & Raytheon Validate Latest Tomahawk Block IV Software Update with Flight Test

The U.S. Navy and Raytheon Company demonstrated new capabilities for the Tomahawk Block IV cruise missile in a successful flight test conducted from the
Ticonderoga class guided missile cruiser USS Anzio (CG-68)
. The test proved that the Block IV can operate with an improved, more flexible mission planning capability.
Tomahawk cruise missile. Picture: Raytheon
"Together with our U.S. Navy partners, we continue to modernize the Tomahawk Baseline IV weapon system to outpace threats and provide warfighters with a tactical edge," said Mike Jarrett, Raytheon Air Warfare Systems vice president. "Tomahawk continues to be our nation's weapon of choice for long-range, precision strikes against high-value targets."

The flight test validated recent updates to the mission planning system software, enabling planners to more rapidly design dynamic missions. This was also the first significant software update to the tactical Tomahawk missile in more than five years.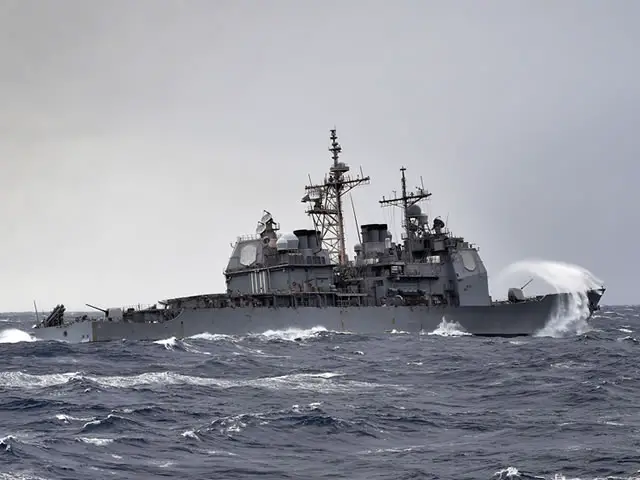 ATLANTIC OCEAN (March 30, 2015) The guided missile-cruiser USS Anzio (CG 68) is en route to Scotland to participate in exercise Joint Warrior, a United Kingdom-led semi-annual multinational cooperative training exercise. (U.S. Navy photo by Mass Communication Specialist Seaman Ryan U. Kledzik/Released)
The mission missile scored a direct hit on its target. These capabilities will be disseminated throughout the fleet for use in overseas contingency operations.

About Tomahawk Block IV
With a range of approximately 1,000 statute miles, the Tomahawk Block IV missile is a surface- and submarine-launched precision strike stand-off weapon. Tomahawk is designed for long-range precision strike missions against high-value and heavily defended targets. More than 2,000 Tomahawks have been employed in combat. Tomahawk is integrated on all major U.S. surface combatants, as well as U.S. and U.K. sub-surface platforms, including the Los Angeles, Virginia, Ohio, Astute and Trafalgar-class submarines.