a
Naval Defense Industry News - USA
Insitu Awarded RQ-21A Blackjack Drone Systems Contract by US Navy Naval Air Systems Command
Under the terms of its latest contract, Insitu will build six RQ-21A Blackjack systems for the U.S. Navy and Marine Corps. The $78-million Small Tactical Unmanned Aircraft Systems (STUAS) Lot IV Low Rate Initial Production (LRIP) contract is the latest event in the program's progression toward the Initial Operational Test and Evaluation (IOT&E) phase.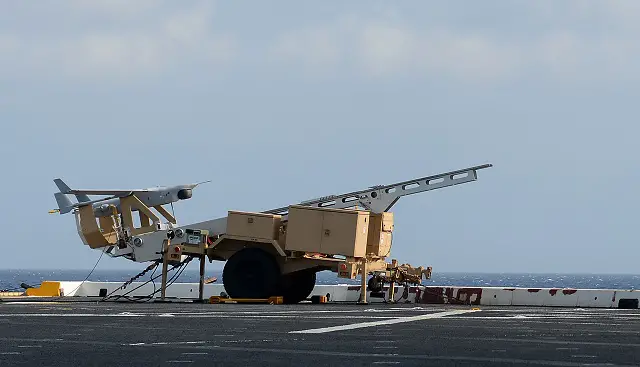 GULF OF MEXICO (Feb. 10, 2013) The MKIV launcher prepares to launch the RQ-21A Small Tactical Unmanned Air System (STUAS) from the flight deck of the San Antonio-class amphibious transport dock USS Mesa Verde (LPD 19) for its first flight at sea. Mesa Verde is underway conducting exercises. (U.S. Navy photo by Mass Communication Specialist 2nd Class Stuart Phillips/Released)
"This award will increase the number of systems to the fleet and bring a greater footprint and capability to the Marine Air-Ground Task Force and Naval Special Warfare teams to meet operational demands," said Col. Eldon Metzger, program manager for the Navy and Marine Corps Small Tactical Unmanned Aircraft Systems.

"Blackjack will deliver unparalleled organic intelligence, surveillance and reconnaissance coverage," said Ryan M. Hartman, Insitu's president and CEO. "We are proud to support the Navy and Marines and provide a capability that helps them rapidly deploy the system into a warfighting environment."
RQ-21A Blackjack Small Tactical Unmanned Aircraft System (STUAS) in Naval Use.
Insitu picture
RQ-21A has significantly larger payload mass, volume and power than other small UAS currently being used by the Marines in theater. The system includes electro-optic and mid-wave infrared sensors with a laser rangefinder and infrared marker. A portfolio of payload options has been developed to deliver immediate situational awareness for land and maritime missions.

Naval Air Systems Command (NAVAIR) awarded the STUAS Engineering Manufacturing Development contract to Insitu in 2010 to begin the development of RQ-21A Blackjack, a variant of the company's Integrator unmanned system. The program achieved Milestone C in 2013, and delivered the first LRIP system in 2014.