a
Naval Forces News - USA
U.S. Navy MQ-4C Triton UAS Begins Testing Inside Anechoic Chamber
A U.S. Navy'
MQ-4C Triton UAS
was lifted inside Patuxent River's anechoic chamber Aug.12 for electromagnetic compatibility (EMC) testing. This event marked the first time that an unmanned aircraft inside the chamber was controlled from an external ground control station. Triton's EMC testing will continue for the next eight weeks to verify the aircraft's subsystems can operate without interfering with each other.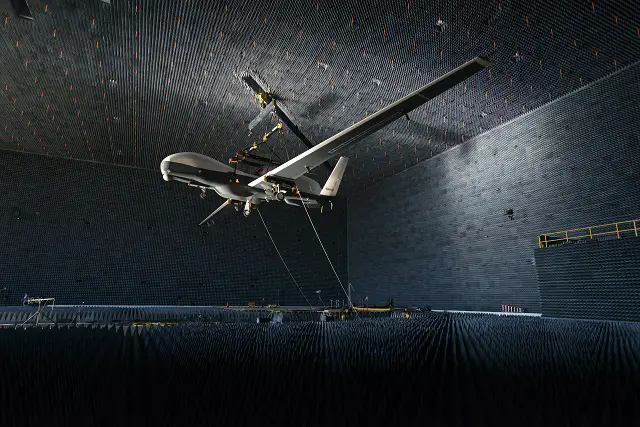 Link to MQ-4C Triton datasheet

The MQ-4C Triton unmanned aircraft in the anechoic chamber (U.S. Navy photo)
An anechoic chamber ("an-echoic" meaning non-reflective, non-echoing or echo-free) is a room designed to completely absorb reflections of either sound or electromagnetic waves. They are also insulated from exterior sources of noise.
When operational, the MQ-4C Triton UAS will provide 24/7 ISR coverage virtually anywhere in the world. Its ability to dwell at high altitudes will improve intelligence collection and bring an unprecedented level of maritime domain awareness to the warfighter operating and sustaining up to five orbits across the globe.
Link to MQ-4C Triton datasheet