a
Naval Forces News - France
NH Industries Delivered the 14th NH90 NFH Caiman Helicopter to the French Navy
NH Industries delivered the last NH90 NFH Caiman in "Step B" standard to the French Navy (Marine Nationale) on July 17, 2015. It is the fourteenth Caiman delivered out of the 27 on order by the French Navy.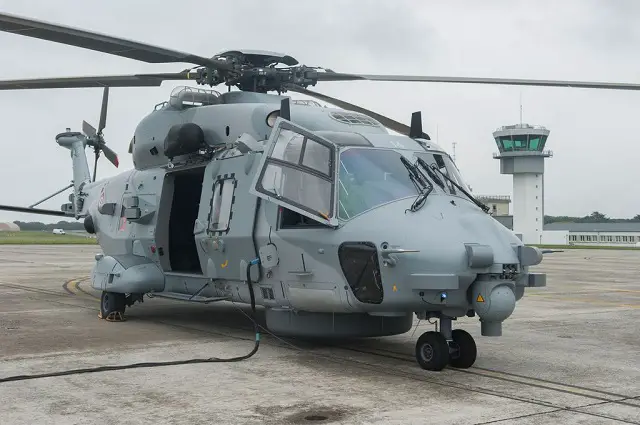 The 14th French Navy NH90 Caiman joined the 33F flotilla in Lanvéoc-Poulmic naval air station (Brittany) Picture: A.Agostinelli@Marine Nationale
Following the usual maintenance operations before its induction, the maritime helicopter was transferred to the 33F flotilla (naval helicopter squadron) in Lanvéoc-Poulmic naval air station (Brittany) on August 12, 2015. This brings to five the number of Caimans in this flotilla.
NH90 helicopters belonging to 33F flotilla rountinely deploy with French Navy
Aquitaine class Frigates (FREMM)
and Forbin class Destroyer (Horizon).

The NH90 may deploy two MU90 Torpedoes. Picture: French Navy/Robert Dal Soglio

The NH90 NFH boasts a state-of-the-art weapons system that combines – as part of a high-performance platform – a package of ultra-modern electronic, acoustic and optronic sensors as well as weapons loads adapted to anti-ship (ASuW) and anti-submarine (ASW) missions. The helicopter also performs SAR, amphibious, maritime surveillance and anti-piracy missions.
Earlier this year, French Navy Caiman crews passed some major qualification steps such as
IOC for the release of counter measures
and
IOC for ASW with MU90 torpedo
. In a march, an NH90 Caiman conducted
the first ever operational deployement
with Horizon class air-defence destroyer Chevalier Paul.