a
Naval Forces News - USA
NAVAIR Announces Full Rate Production Milestone for AIM-9X Sidewinder Block II Missile
NAVAL AIR SYSTEMS COMMAND, PATUXENT RIVER, Md. – Featuring a "lock on after launch" capability and other advances, the joint Navy and Air Force air-intercept missile (AIM)-9X Sidewinder Block II reached the full rate production milestone Aug. 17.
An AIM-9X Block II Sidewinder, a within and beyond visual range air-intercept missile, is loaded on an Air Force F-15 Eagle shortly before take-off from Eglin Air Force Base, Valparaiso, Florida, during a developmental test event. The Sidewinder reached the full rate production milestone Aug. 17. (U.S. Navy photo)
Sean Stackley, Assistant Secretary of the Navy for Research, Development and Acquisition, signed the Acquisition Decision Memorandum allowing the Air-to-Air Missile Systems Program Office (PMA-259), located at Naval Air Station Patuxent River, Maryland, and industry partner, Raytheon Missile Systems, to move forward with mass production of the missile.

"With our adversaries constantly advancing technologies within their aircraft and weaponry, we must continue to advance our capabilities to stay ahead of future threats," said Capt. James Stoneman, PMA-259 program manager. "AIM-9X FRP is the end product of much engineering and testing to ensure our warfighters are equipped and ready to respond to any scenario."

Approximately 6,000 AIM-9X Blk II missiles will be procured through 2026.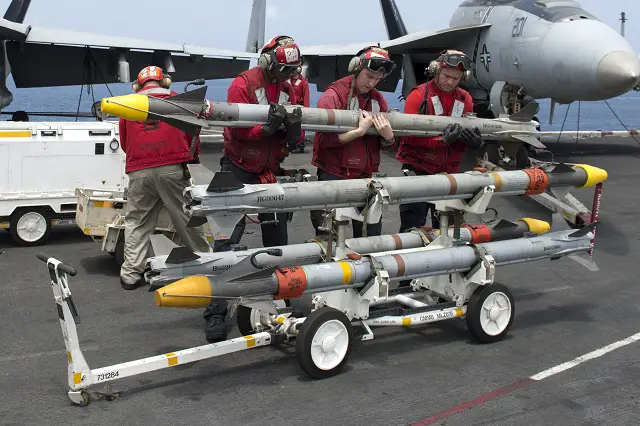 Sailors assigned to the Jolly Rogers of Strike Fighter Squadron (VFA) 103 transport a AIM-9X Sidewinder air intercept missile (AIM) on the flight deck of the aircraft carrier USS Dwight D. Eisenhower (CVN 69). Dwight D. Eisenhower is deployed to the U.S. 5th Fleet area of responsibility conducting maritime security operations, theater security cooperation efforts and support missions as part of Operation Enduring Freedom. (U.S. Navy photo by Mass Communication Specialist Seaman Andrew Schneider/Released)
Upgraded from the Block (Blk) I series, the AIM-9X Blk II missile incorporates new software, an upgraded guidance control unit and a longer battery life. The new technology improves probability of kill, increases launch range and enhances the target detector functionality. A key characteristic is its rapid response capability in air combat scenarios.

The most significant change incorporated into the Blk II series is the "lock on after launch" capability. Rather than requiring the warfighter to actually see the target to lock the missile on, the warfighter can launch at the target without knowing its exact position. Once the missile is launched from the aircraft, the seeker - a sensor inside the missile - locates the target either via infrared emissions or via datalink and proceeds to execute its mission.

"The effectiveness, coupled with increased reliability of the AIM-9X, exceeds our original expectations," said Lt. Cmdr. Betts, AIM-9X Block II military integrated product team lead. He said the effort advanced as scheduled after the Navy reached its initial operational capability milestone in March.

The air-intercept missile is 119 inches in length, weighs 186.2 pounds and is capable of being launched from the Navy's F/A-18 Hornet and Super Hornet, the Air Force's F-15 Eagle and F-16 Fighting Falcon and various international partner aircraft equivalents. Its purpose is to detect, acquire, intercept and destroy a wide range of high-performance airborne and surface threats.