a
Naval Defense Industry News - Netherlands
Thales New NS100 Naval Radar System Passed Factory Acceptance Test
Thales has reached another important milestone in the development of its new NS100 surveillance radar, passing the factory acceptance test (FAT) on schedule with an excellent performance. The FAT consists of a comprehensive series of tests to demonstrate that the system complies with the requirement set by the launching customer.

NS100's dual-axis, multibeam technology enables optimal situational awareness
Picture: Thales
The FAT was performed at the Thales premises in Hengelo, the Netherlands, in the presence of the customer's representatives. Prior to the formal FAT, the NS100 was exhaustively tested with targets of opportunity and controlled air targets and the results showed an outstanding performance.
With this FAT Thales has proven that NS100 is not a 'paper tiger'; it works without any shortcoming or restriction. Once more, Thales raises the bar for naval surveillance radars.
This first system will be installed on board of the customer's ship in October 2015, after which the sea trials will take place. Series production of NS100 is now in full swing; the first batch of 10 systems is currently being produced.
In december 2014, the Netherlands Defence Materiel Organisation (DMO) and Thales signed a contract for the delivery of a NS100 dual-axis multi-beam surveillance radar. The system will be installed on HNLMS Rotterdam, to replace its 30-year old DA08 radar system. It also appears that the Republic of Singapore Navy select the NS100 for its future
LMV / Littoral Mission Vessels
.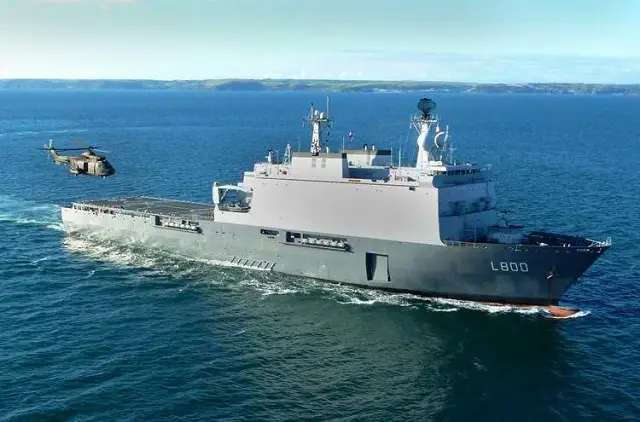 HNLMS Rotterdam
About NS100
The NS100 is the newest member of Thales's S-band AESA radar family. It is the first radar world-wide using dual-axis multibeam technology, which significantly enhances situational awareness in a littoral environment. NS100 is a multi-sensor integrated platform: in addition to the S-band radar, the system is designed to include the Scout Mk3 FMCW radar, the IFF mode 5/S interrogator and transponder, an IR camera, AIS and ADS-B. Positioning all sensors at the best topside position optimizes the overall field of view.

The highly modular and scalable NS100 enables a tailor-made sensor for customer specific requirements and operational profiles. Radar performance is increased by adding RX and TX Building Blocks, answering to the need set by a wide range of naval ships and missions. The flexible radar architecture enables through-life introduction of new capabilities.